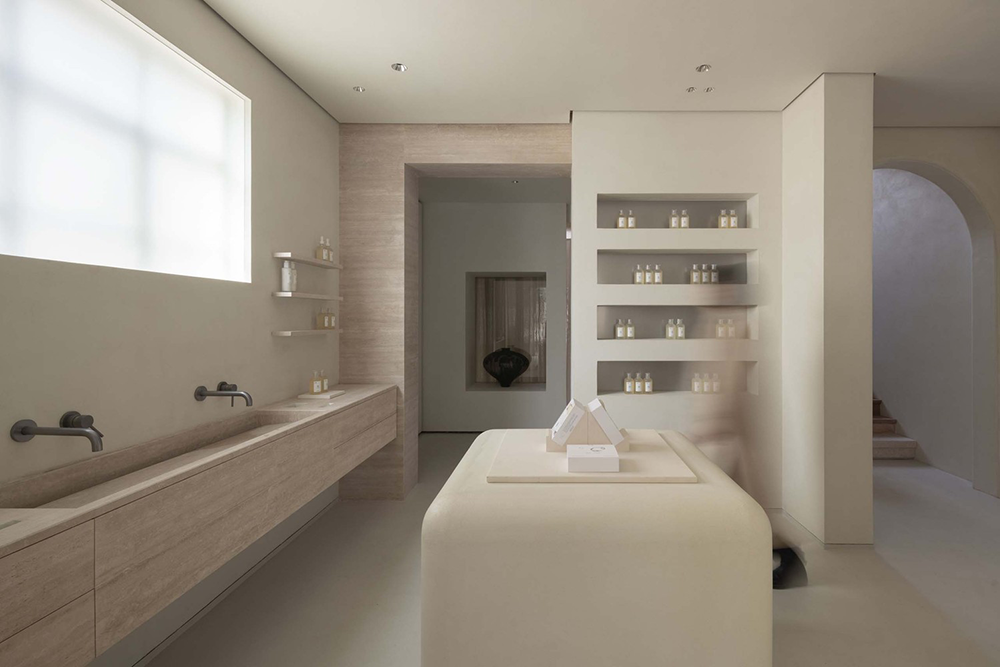 The To Summer Shanghai Flagship store, located at No. 111 Hunan Road, is a "Spanish Colonial Revival" architecture. Sited amongst many of its kind built 100 years ago, this project introduces a new subject to the neighborhood – an "Eastern New Modern" aroma brand. Our design aims to resolve its programmatic discord, structural challenges, and perceived conflict.
Upon entering the villa from the buzzing streets, visitors are greeted with a ceremonial cleansing station. The gesture of hand washing is a calling to slow down and mentally prepare for arriving at the venue. The original bathroom in between the villas is removed and replaced by a magnolia tree. In the backyard garden, the original plants were kept, with new landscape design surrounding the existing four trees. To contrast with what was there before, the newly added plants are selected for their undersized silhouette.
Standard commercial functions are programmed on the ground floor, allowing the second floor to transform as Summer's living room, tea room and study. The second floor embraces an open floor plan where visitors are encouraged to appreciate minute seasonal changes reflected within the space, such as adoring the winter sun and ever-changing shadows cast by surrounding trees. Interior lighting is dimmed. We played mostly with natural light and a restrained use of band light to render a homie atmosphere.
The challenging aspect in this project is to reconcile the new program and the villa's rich historical background. We aim to design a space where visitors are guided to experience the stories that have happened, are happening and are about to happen here. A successful design should not be a finished product. It is an honest dialogue between the user and the space. The constant interaction of "people" and "objects" reconstructs the space and generates new meaning.
Architects: F.O.G. Architecture
Lead Architects: Yu Zheng, Di Zhan
Design Team: Leilei Wu, Yuyu He, Shaokai Zhuang, Ronghua Lei, Aijie Xiong, Shaokai Hou, Zheng Huang, Yuzheng Song, Dejing Zou, Lu Jiang, Yingzi Huang, Xiaomao Cao,Khoon Choi (Client Rep)
Photographs: SFAP
Via