North American Applied Arts Design Competition​
The North American Applied Art and Design Competition has been held for 2 years, the event was formerly known as the Canadian Applied Art Exhibition, and now the event covers North America including the United States and Canada, the number of manuscripts for each event is over 40,000, the number of participants is over 20,000, and the number of participating colleges and enterprises is over 300.
The purpose of the competition is to better explore how art can be created to be more applied, and the integration of art and technology.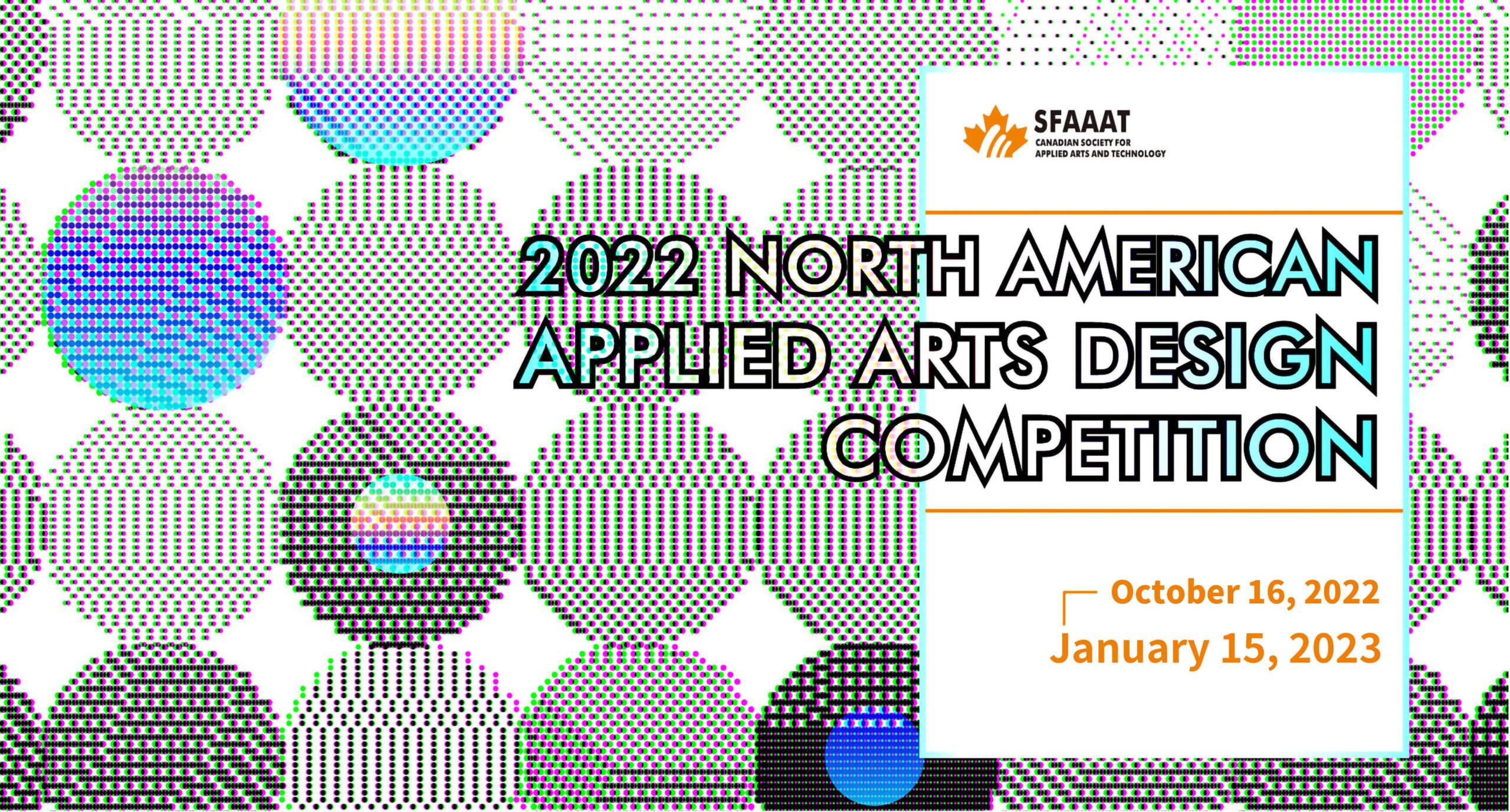 Authoritative Organization
The competition is organized by the Canadian Society for Applied Arts and Technology,Society Founded in 2013 and located in Quebec City, Canada, SFAAAT is a public interest research institute that focuses on the integration of art and science, trends in art, etc.
Wide range of participants
The competition is open to all design art lovers, design art college students, professional designers, university teachers, art and technology integration research scholars worldwide
Three-level review system
In order to reflect the fairness and professionalism of the event, there are three levels of judging system for the event, which are.
1. First round of judging: 
The first round of judging will be conducted by current PhD students and university teaching assistants of the Society's art and design program, and the scores are for reference only.
2. Second round of judging: 
All works will pass the second round of judging, and the scores of the first round of judging will be used as a reference basis. The main judges of the second round of judging will be university lecturers registered by the Society, professional designers and artists with about 6 years of working experience in the industry.
3. Three rounds of evaluation: 
the works selected through the second round will enter the third round of evaluation, the third round of evaluation by the executive vice president of the Society and the Society's registered university associate professors, experts in the industry for more than 10 years of experts to evaluate and award the corresponding prize.
High prizes and award rewards
The tournament will award US$40,000 to approximately 50 winners
Supreme Award (Applied Thinking Direction)
– 5 winners – US$2000
Supreme Award (Creative Performance Direction)
– 15 winners –  US$1000
Supreme Award (Design Innovation Direction)
– 30 winners – US$500
In addition to the prizes for the 50 contestants, we have set up approximately 600-1500 prizes to be awarded to contestants who actively participate in the event and contribute to the development of applied arts.
Gold – 50 winners
Silver Award – 200-300 winners
Bronze – 500-800 winners
Excellence Awards – Undetermined number
All the above winners will receive a trophy and a certificate as a memento of their award.
The theme of the competition is broad, with no fixed requirements, but only the following projects can be submitted
1. Art and Technology
this category can submit art and technology fusion art, more inclined to installation art or conceptual art, can submit PDF concept manuscript or concept video.
2. Fusion art
this category can submit fusion art such as material and art, information and art, etc.
3. Graphic design and art
this category can submit manuscripts related to graphic design art, such as poster design, book design, clothing design, UI design, interface design, etc.
4. Media Art
this category can submit manuscripts related to media art and interactive art, such as short films, interface interaction, etc.
5. Environmental art and design
this category can be submitted such as environmental visual design, identity design, landscape architecture design, interior and exterior design, etc.
6. Product design
this category can submit product design.
A fee is required to participate in the competition
The tournament requires payment of certain fees, which are mainly used for the judging fees, judging experts' fees, prize money expenses, and normal operating costs of the tournament
The entry fee is $38 per entry.

Introduction of the finalist jury
LISA HALLWAY, Vice President of the Society, Head of Visual Scholarship, Associate Professor of Design at Dalhousie University, Founder of DMM Design Agency


Luis Alberto, Vice President of the Society, Lecturer at the University of Montreal, Design Director of KY Design Group Canada, expert in interaction art and design, main research interests are visual interaction, interface design, interaction design
JAMES CARTER, Lecturer, School of Architecture, University of Alberta, Vice-President, Canadian Institute of Architects, Associate Design Director, TDS Architects, Canada


Philip Williams, Vice-President, Canadian Humanities and Arts Association, Executive Director, Canadian Design Alliance
Ethan May, Visiting Professor of Human-Computer Interaction, Dalhousie University

Lie Hart, Design Consultant and Art Director, CDG International Design, Canada, Managing Director, Canadian Graphic Design Association
Submission methods and requirements
To submit articles, you need to register as a member and then submit online, and upload your work at the same time.