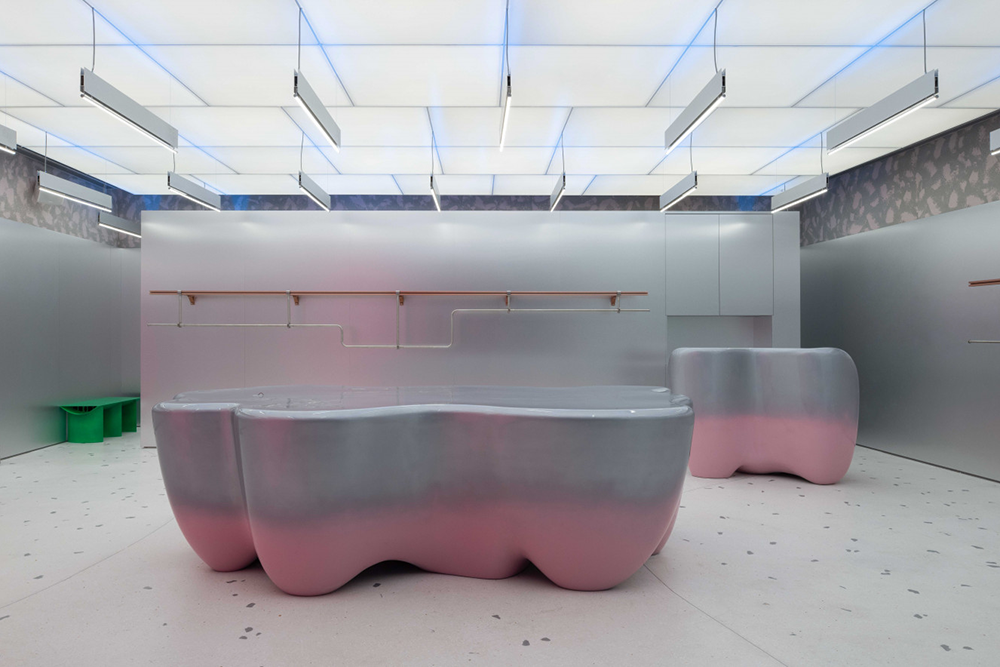 Textile and architectural design practices come together in Reflect Studio's new Istanbul stores, interiors that push forth the ideas of object autonomy and constant iteration.
Key features
To create an always-evolving yet sustainable spatial direction for sneaker retailer Reflect Studio, Salon Alper Derinboğaz looked to nature and the technological possibilities of AI-generated design. Innovative materials and experimental upcycling techniques were utilized in tandem with AI algorithms and boat-building technology to develop the statement organic-form furniture that fill the two futuristic spaces. 'Rather than designing the finished objects, we adopted a generative process that mimics nature's evolutionary approach,' explains designer Alper Derinboğaz. The interiors, he says, are meant to convey an 'updated approach to modernism in the new post-COVID era.'
They are outfitted with features like recycled metal terrazzo flooring, a 'frozen' textile stool, ripple-textured changing unit, sigma profile hangers and a green airplane-wing bench. Surplus materials went into creating all these elements; waste aluminium is the aggregate of the terrazzo flooring, for example, while plastic packaging bags collected during production were transformed into epoxy resin shelving. Programmable distributed lighting, facing upwards or downwards, creates key focus points in the metal-clad interiors. Complementing the main retail areas are nooks where products can be personalized or repaired on site, echoing the iterative design approach.
FRAME's take
These projects importantly exemplify that technology and nature don't have to exist at odds with one another – that both have a key role in the development of modern design. Salon Alper Derinboğaz's homage to nature is not clear in the aesthetic of the stores, but its existence at the conceptual level is what makes this work so interesting. Biological laws and generative design techniques harmonize in the visually enticing interiors. The smartly upcycled materials and furniture show how thinking about technology's potential through the lens of nature can really help up the level of sustainability in spaces. 
Designed by Salon Alper Derinboğaz
Via