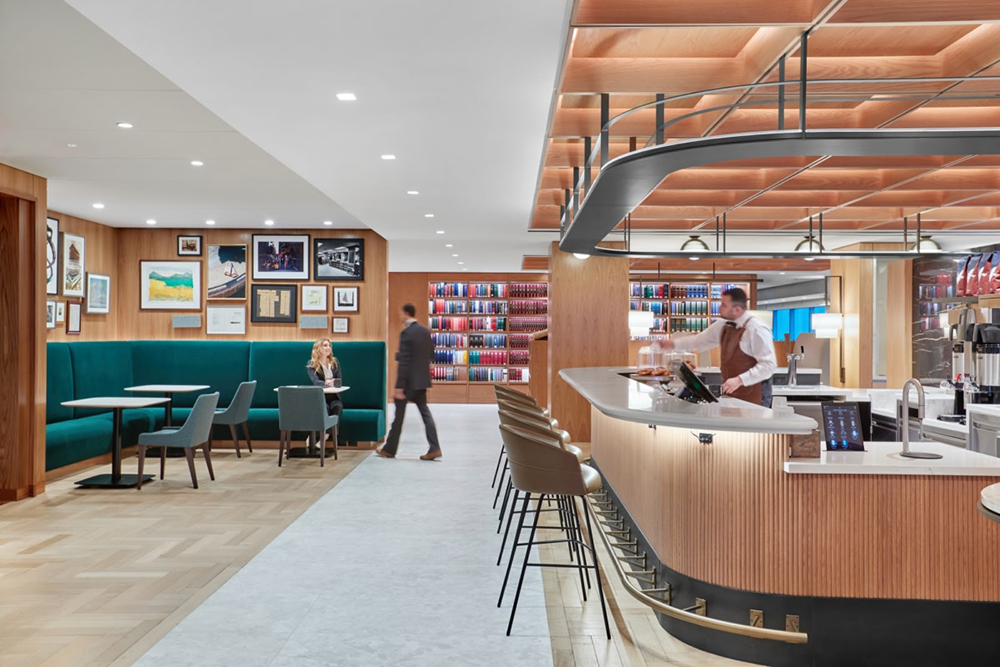 Shearman & Sterling has opened the doors to their newly imagined New York City headquarters, an office showcasing not only the evolution of the workplace, but of the long-withstanding legal firm and their ability to adapt and change. Perkins&Will completed the design the newly updated Shearman & Sterling headquarters in New York City, New York.
When Shearman & Sterling set out to redesign its Manhattan headquarters, it wanted a client-first environment to celebrate the legacy of the firm, while simultaneously establishing a renewed design vision that would set a new standard for all future workplaces across the firm's global portfolio. With one of the most formidable legal legacies in American history, Shearman & Sterling's offices had become a time capsule of the firm's evolution. The challenge was to reimagine a new showcase for their legal experts to adapt to new ways of working, and to engage in more meaningful ways with their colleagues and clients alike.
A key focus in all client and employee areas was to create a hospitality-rich environment that elevates the user experience. Select functional zones have the look and feel of a high-end gallery space, while still being warm and inviting. The first phase of construction included a two-story client reception and conference center, with a variety of assembly spaces and amenities. A dramatic sculptural staircase connects the bi-level reception and hospitality zone, centrally located within a series of meeting and lounge spaces of various sizes and configurations.
The rotated geometry of the stairs breaks from the orthogonal grid of the office; an intentional design gesture that compels visitors to reorient their physical and mental connections within the built environment. The design team also interspersed break-out zones with curated artwork and furnishings to buffer meeting rooms with cutting-edge audio-visual systems. The intended effect provides moments of respite and inspiration between zones of focused activity, creating a user experience that is rejuvenating and keenly focused on human connections.
Attorney's areas feature a range of flexible meeting areas, moveable walls, pantries, and lounges that are designed to bolster connectivity amongst employees. The architectural detailing and finishes on the employee floors exude the same warmth and hospitality of the client-facing floors, albeit on a slightly smaller scale.
The phased renovation of the 340,000 square foot space included creating visual cues that orient the user and reinforce connectivity with functional areas on other floors. One example is the elevator lobby on each floor, which features floor-to-ceiling travertine slabs accentuated by discrete lighting that emits a soft glow on the legacy stone material. Employee pantries are located immediately adjacent to alternating lobbies, providing natural daylight into a less-formal collaborative zone.
The result is an architectural envelope underlined by an inherent refinement that speaks to the firm's stature without feeling staid. It emphasizes clean lines, natural materials and modern finishes that complement the restored terrestrial limestone.
An expansive art program was developed to feature curated works that relate back to each of Shearman & Sterling's global locations. Original commissions focused on young, up-and-coming artists as well as established local artisans whose works are prominently located in public spaces throughout the conference center and hospitality areas.
Other unique features of the firm's newly renovated headquarters include a multi-function event space with 20-foot ceiling height, the scale of which evokes iconic New York City venues. The dynamic hub of activity radiates from the new European-inspired Café that features a full cooking kitchen, barista bar, cozy seating alcoves with curated artworks, a tech hub, and a variety of seating options that are easily reconfigured to accommodate functions of any scale. The boardroom features a custom table that easily accommodates over 50 people, with full-service dining capabilities.
Design: Perkins&Will
Photography: courtesy of Perkins&Will
Via