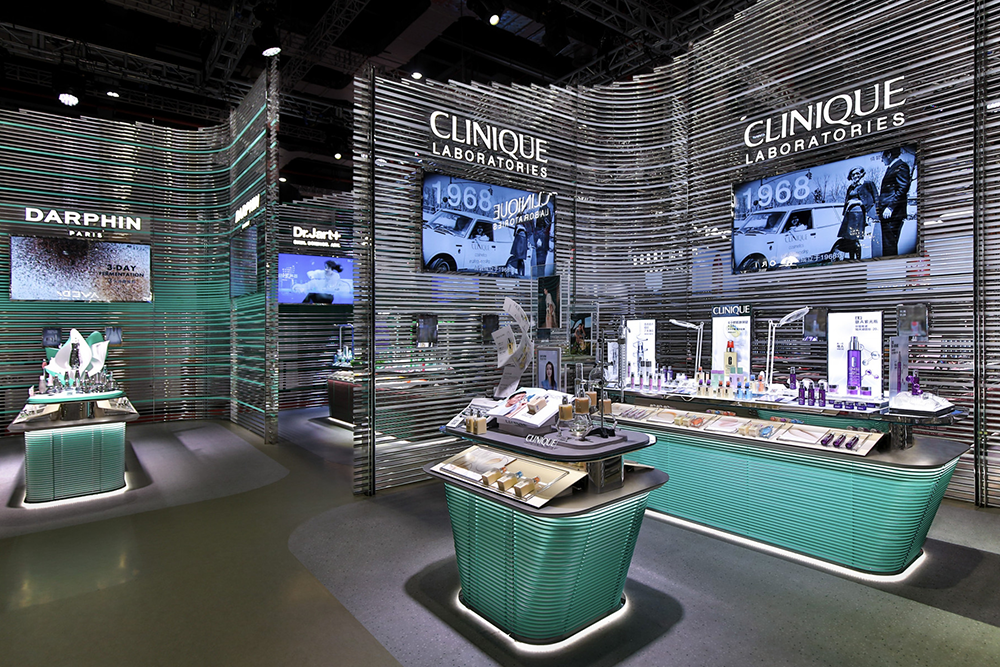 Dongqi Design's pavilion for The Estée Lauder Companies at the China International Import Expo in Shanghai was the foundation for a journey through the brand's 75-year history.
Key features
Commemorating the 75th anniversary of Estée Lauder Companies's founding, the pavilion inhabited 420-sq-m of the Shanghai Convention and Exhibition Center. The China International Import Expo exhibition united the multinational corporation's 13 brands operating in China while setting the stage for labels soon to be launched in the country. Dongqi Design's architectural concept – 16,000 mirrored metal pipes wrapped around the area at a height of 6 m – signalled this familial brand narrative. 
Installed horizontally, the pipes' curving, sinuous forms, united by a hidden connecting system, also helped give a natural fluidity to the visitor journey. Gaps between each bar created visual transparency throughout each brand space. These were distinguished by complementary colour gradients emerging from the bottom of the pipe walls – interactions between the different hues added to the design's ephemeral, aesthetic quality.
FRAME's take
A pavilion larger than many stores, the Estée Lauder Companies display at the Shanghai Convention and Exhibition Center is a feat in spatial storytelling. The Dongqi Design team utilized architectural elements to their advantage in developing a narrative-led visitor experience appropriate to the image of Estée Lauder Companies's various labels, and there is ample opportunity to consider how the clever pipe system can be further reused in different contexts. 
Designed by Dongqi Design
Photography by Ming Pavel Shubisky
Via