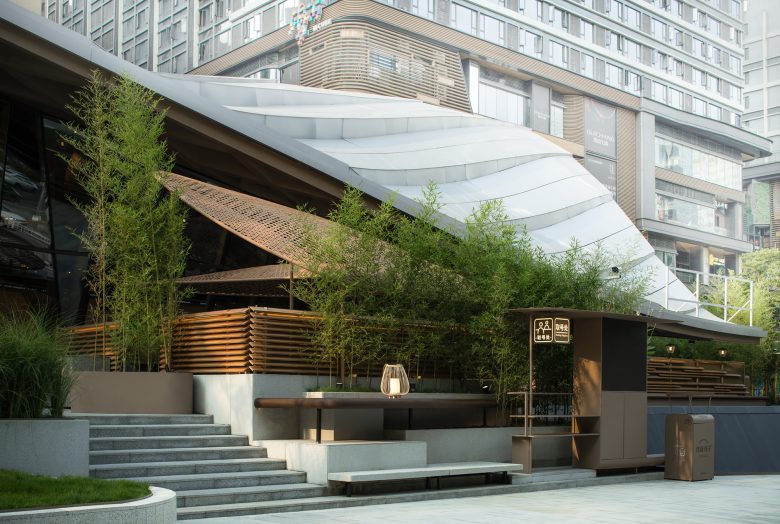 HDC Design|CHUAN HSI PA TZU·Teahouse
The rich and fertile land of west Sichuan has given birth to countless special flavours that dominate people's food throughout the year.CHUAN HSI PA TZU·Teahouse has decided to rekindle the ties of friendship and pass on the heritage of hotpot in the unique building that sits on Jiaozi Avenue.
The fluid slanted roof from the original structure is kept and gave rise to the design idea of an idyllic life.The bamboo-woven tools for manual labour were the best assistants of the people in west Sichuan. We have reinterpreted them and created many related interior components, including awnings and screens, which became an extension of the spatial impression.
PROJECT: CHUAN HSI PA TZU
LOCATION: No.456# Jiaozi Avenue Chengdu Hi-Tech Industrial Development Zone China
SIZE: 466SQM
DESIGN: 2 / 2022
DESIGN FIRM: HDC Design (www.hdcchengdu.com)
OPENING: 9 / 2022
CHIEF DESIGNERS: Jiajun Tang / Rene Liu
DESIGN TEAM: Jiajun Tang / Rene Liu / Dana / Yuqing He
FURNITURE AND EQUIPMENT DESIGN: TimeStone Design
ILLUMINATION DESIGN: HDC Design (www.hdcchengdu.com)
Photographer: Chuan He