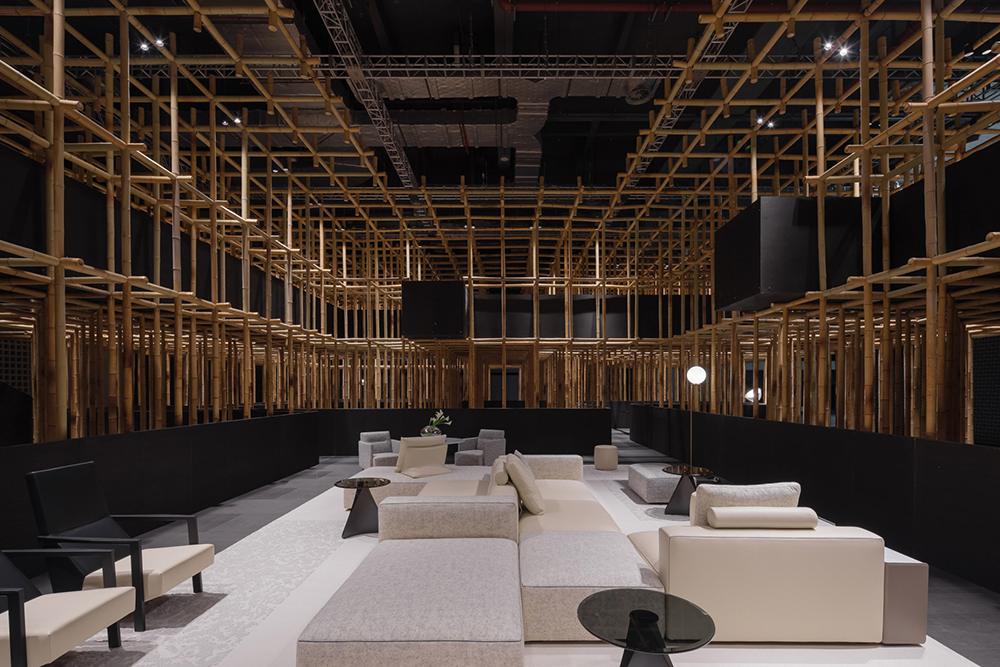 For its 2022 showroom at CIFF Shanghai, furniture design brand Camerich invited Neri&Hu to create an alternative, interactive display method.
Key features
'Structural Field' is the result of the commission, a labyrinthine network made up of 1,000 bamboo culms for visitors to explore. Neri&Hu embraced bamboo in its natural form – the Shanghai-based architecture firm set the stalks in a grid formation to create the interactive structure. The idea behind the installation was to leave the space open to interpretation, allowing visitors room for a feeling of duality within it. Neri&Hu rooted its design in the contrasting concepts of tradition vs. innovation, nature vs. artifice, chaos vs. sanctuary and objects vs. the viewer.
As visitors moved through the installation, they got a glimpse of what was ahead through different layers of bamboo, the varying density of the stalks causing one's perspective to constantly shift. Rather than simply providing a pedestal for furniture pieces, 'Structural Field' featured communal spaces that recreated 'scenes of everyday life'. The visitor pathway opened up into areas resembling domestic living, bedroom and quiet contemplation areas using pieces from Camerich's latest collection. This encouraged visitors to be more than just viewers, but active participants who could engage in their own personal way with the space and objects. 
FRAME's take
Neri&Hu celebrated one of the oldest construction materials there is in the use of bamboo for 'Structural Field', demonstrating how the fast-growing and renewable natural material can be put to modern use in its original form. The simple joins and modular units that made up the structure mean that it can be easily transported and resized to fit spaces of varying dimensions, making it not only an engaging but also a highly practical alternative to the usual display methods used at international design fairs. It is a sustainable and adaptable design solution that also inspires more stimulating visitor interaction with the products on show.