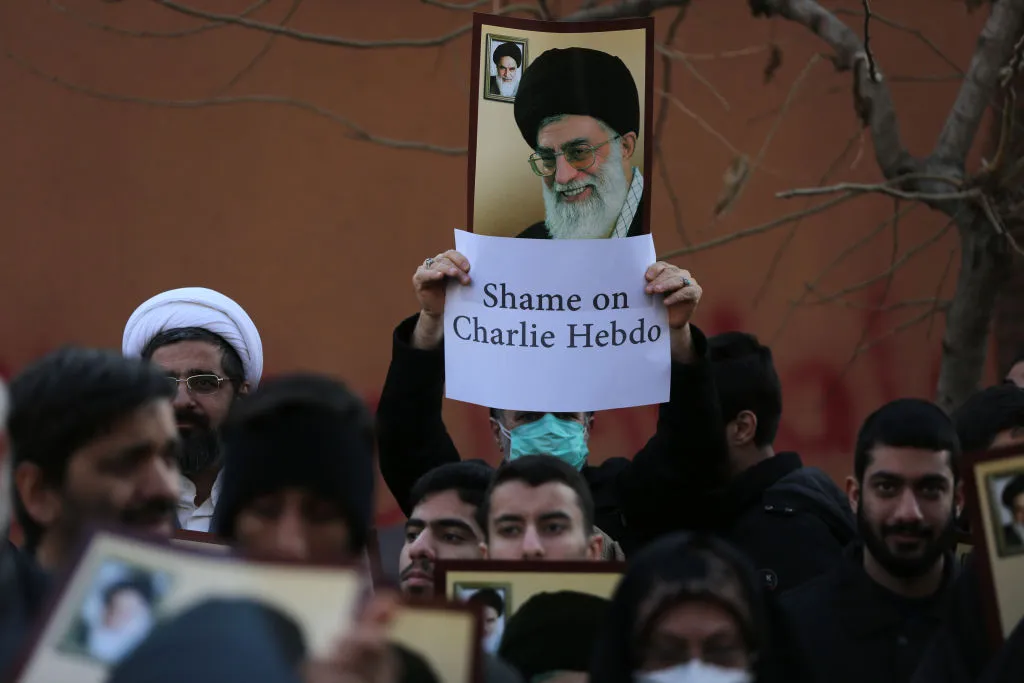 Iranian officials have condemned the French magazine Charlie Hebdo and closed a research center affiliated with France after the satirical outlet published caricatures of the country's religious clerical leaders amid civil unrest.
The images were published in the magazine's recent issue around the anniversary of the 2015 shooting at the Paris office of Charlie Hebdo, which had published a controversial cartoon of the Prophet Muhammed. Twelve people died in this shooting.
The publication's latest illustrations depict Iranian Supreme Leader Ali Khamenei and other members of the clerical regime executing protestors and engaged in sexually explicit scenarios.
The political cartoons were solicited by the the magazine in an open call that closed at the end of December. On its website, the outlet called for caricaturists "to support Iranians who are fighting for their freedom, by ridiculing this religious leader from another age and consigning him to historical oblivion."
The French outlet aimed to publish the images in solidarity with protest demonstrations that have roiled the country following the death of 22-year-old Mahsa Amini in police custody. She had been detained for allegedly failing to comply with the state's dress-code restrictions for women; many have cast doubt on the circumstances of her death, claiming that it is an instance of police brutality.
Since the protests over Amini's death began in September, thousands of demonstrators have been arrested, and hundreds have been killed, according to the Human Rights Activists' News Agency. Two protestors detained for alleged links to the death of an Iranian officer during the demonstrations were publicly executed last month after closed trials.
In a statement published on Sunday, Iran's foreign ministry spokesman, Nasser Kanani, said that freedom of speech should not be used as a "pretext for insulting" religion. The ministry called on France to "hold to account the perpetrators and sponsor of such instances of spreading hatred."
Iran's foreign ministry closed the French Institute for Research in Iran as its "first step" in responding to the imagery's publication.
France's foreign minister, Catherine Colonna, defended freedom of the press in her country, saying that under the country's legal system, "blasphemy does not exist."