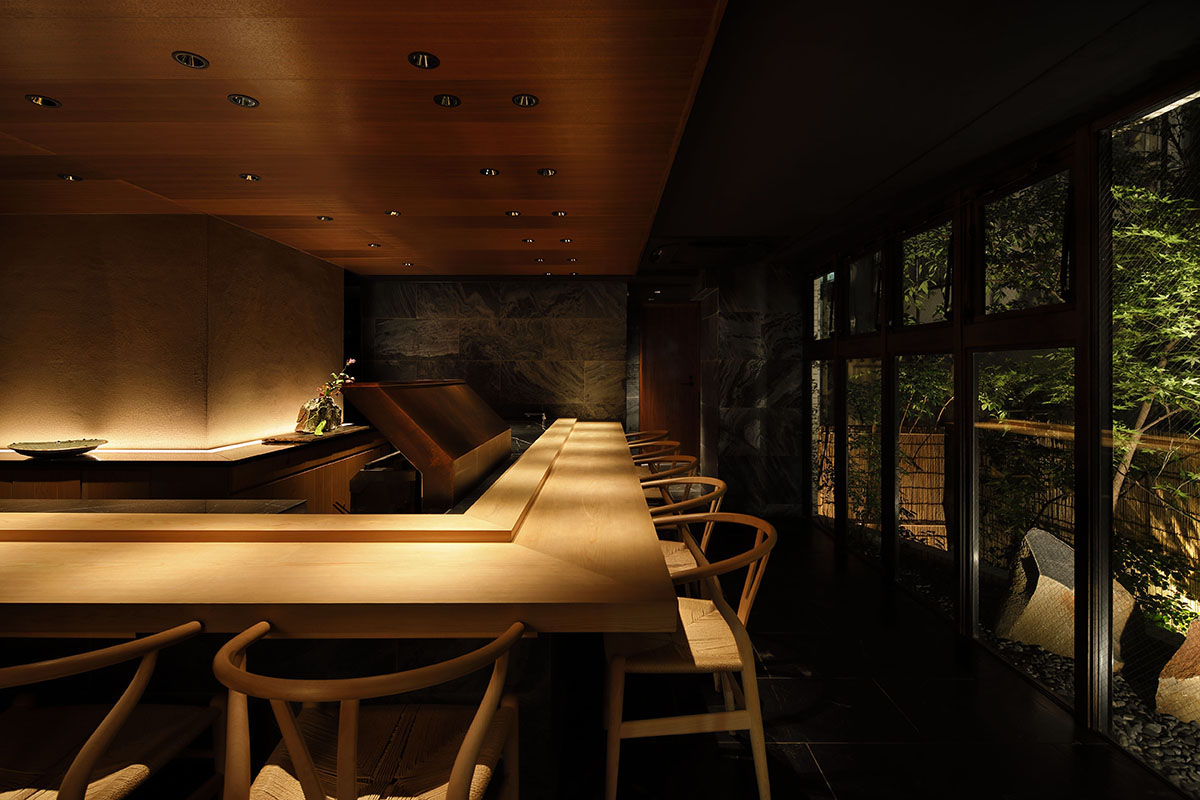 After passing through the approach to the restaurant,
you will find a counter made of a 2,00-year-old , 8-meter-long cypress tree,
which is the sacred tree of Mitsumine Shrine in Saitama.
There is a marble-topped table on the same level as the counter,
allowing diners to enjoy watching the finishing
touches to their cooking right in front of them.
The hood of the charcoal grill, finished with a corroded copper plate,
has a bottom-pulled exhaust system
that makes it look like a sushi counter without any smoke.
Isamu Noguchi's favorite material for sculpture,
Datekanmuri stone from Miyagi Prefecture, is used for garden stones,
washbasins, and the door handle at the entrance.
【YAKITORI SHINOHARA】
Location: Shino building 1F, 1-4-40, Nishiazabu, Minato-ku, Tokyo, Japan
Principal use: Restaurant
Client: Shinochu shoji
Completion: 2021
Architects: INVI
Design team: Masashi Sudo, Takeshi Saito
Stone: Okurayama Studio
Counter Wood /cypress: Kamogawa Shoten
Chair: CARL HANSEN
Plasterer: HARADA SAKAN
Flower Vase: KAI TSUJIMURA
Lighting: SHIFT
Pendant Light: Studio NOI
Contractor: JUSO
Photographs: Daisuke Shima / Adhoc
Construction type: New building
Main structure: Reinforced Concrete construction
Total floor area: 60.00m.
Design term: 2020.08-2020.10
Construction term: 2020.11-2021.01