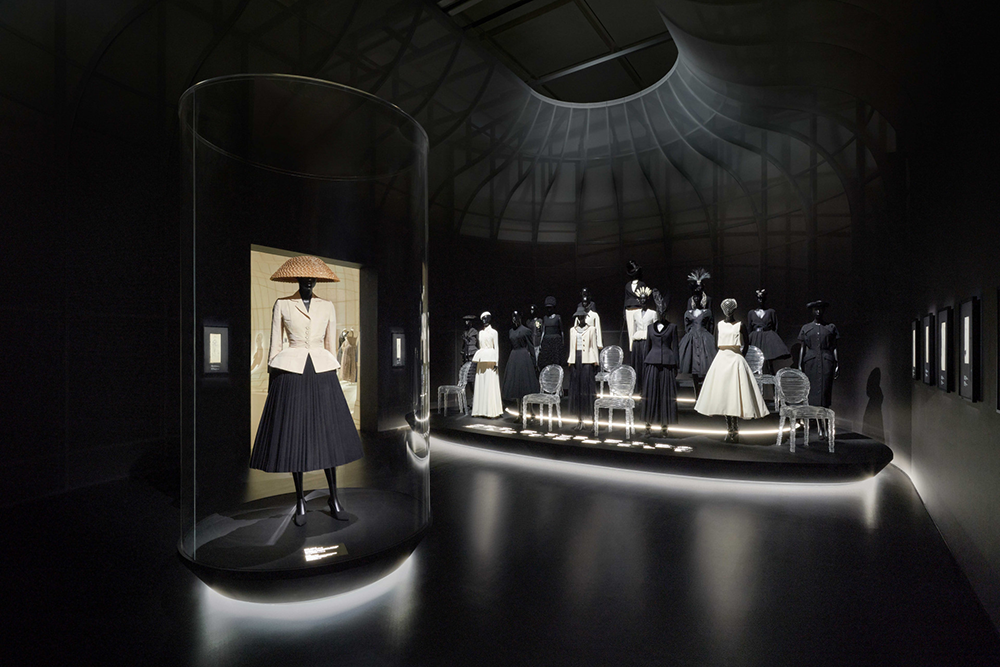 OMA's exhibition design for Dior at Tokyo's Museum of Contemporary Art draws parallels between the luxury brand and Japan, with a space more akin to a set than a gallery.
Key features
Fashion exhibition Christian Dior: Designer of Dreams has seen major success on its global tour, which has included stops in London, Paris, New York and Shanghai. The show is now to be viewed at Tokyo's Museum of Contemporary Art, set up in a space conceived by OMA. Individual immersive environments comprising the two-floor exhibition express 22 curatorial themes, created with major influence from vernacular Japanese design. Techniques, materials and motifs utilized to bring the scenography to life highlight the relationship between Japan's craftsmanship and that of Dior. 
The set for theme 'Dior and Japan' is particularly reflective of this approach: content appears along a winding path with pockets calling to mind Japanese tea gardens. A wooden structure is wrapped in Tenjiku fabric and Awagami washi paper, backlit for an ethereal effect. In the area dedicated to telling the story of Dior's legacy, enlarged fabric panels hark to traditional fusuma and Sudare hanging panels. The space-segmenting screens showcase prints by photographer Yuriko Takagi. To activate the museum atrium, OMA bisected the lofted space diagonally, developing a double-sided display. The top slopes upward, revealing a group of mannequins adorned in Dior's finery, situated in boxes, that can be viewed from below or above. A geometric mirror emphasizes the illusion of the set-up.
Another stand-out 'set' within the 15-room experience is held in a domed room. Layers of concentric fabric surfaces form a 'scenographic hemisphere' made dynamic by animated projections. 'The fashion exhibition is a domain that requires architecture to become a narrative medium,' says OMA partner Shohei Shigematsu. 'We wanted to expand and diversify potentials for storytelling through a retrospective that not only looks back at history but brings new life and relevance to today's culture.'
FRAME's take
We often talk about hyperlocality in the realm of retail, but it's a trend that is showing itself to have wider impact on design. Rather than pursuing a cut-and-dry transplant of Dior's exhibition in Tokyo, OMA has crafted a sensitive, impactful spatial experience that places the luxury fashion house within the Japanese context. The multi-faceted, ultra-engaging scenography boosts the accessibility of the content and is respectful to time, place and community. OMA's previous exhibition work for Dior – retrospectives in Dallas and Denver in 2018 and 2019 – were opportunities for the team to develop an identifiable design language that can be continually iterated upon for new regions, as in Tokyo.
Designed by OMA
Photography by Daici Ano
Via