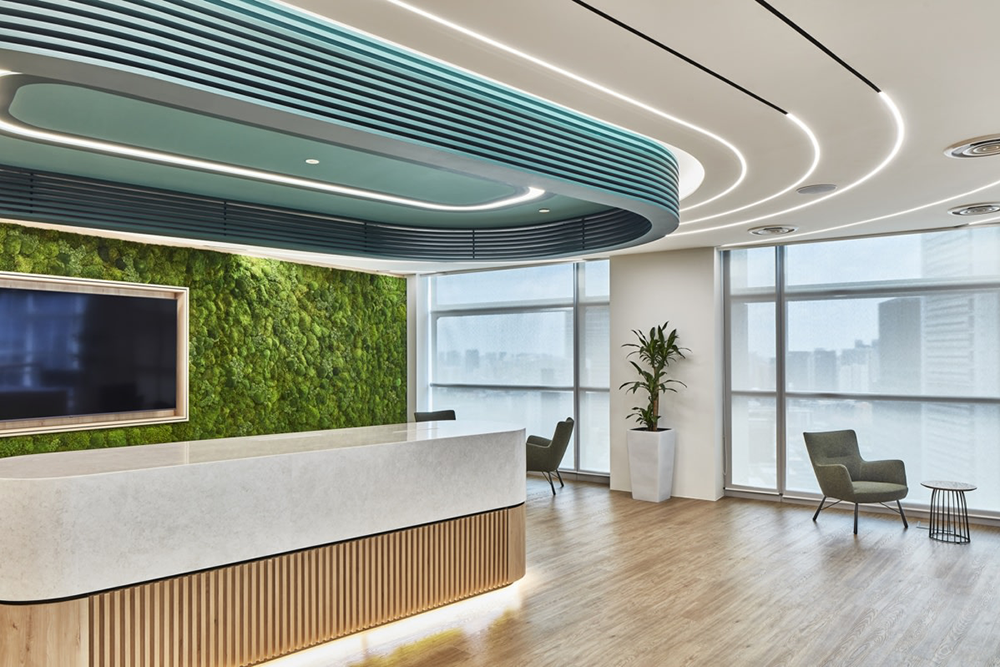 ID21 was tasked with creating a bright workspace for the Revantage Asia offices in Singapore. ID21 was tasked with designing and building a workplace centred around culture, collaboration and connectedness for Revantage Asia, one of three global offices under Revantage, a Corporate Services affiliate of The Blackstone Group, the world's largest alternative investment firm.
Guided by our concept – 'The Revantage Way', we designed a workplace that drives a high-performing, inclusive, and courageous culture where team members are connected to and inspired by Revantage's purpose – In Pursuit of Better. Eco-certified materials and furnishings, lush greenery and touches of Singapore culture foster a sense of well-being and familiarity.
The user journey begins at the front of house, where the intent was to design a reception area with a 'wow' factor. Upon arrival, employees and visitors are greeted by a distinctive ceiling feature inspired by Revantage's 'R' logotype. The latter is also creatively applied in other areas, such as the acoustic panels.
Singapore-inspired elements, from Peranakan-inspired tiles to rattan furniture and scissor gate graphic walls, convey the unique identity of this regional headquarters, while communicating a consistent design language with other global offices. Biophilic elements such as a large moss wall and a hanging green trellis are introduced to soften the environment and bring the outdoors in.
Colours, textures and material applications were purposefully selected to reflect both the energetic atmosphere of the social hub, as well as the softer and more muted vibe of the general work area, creating a seamless transition for users as they move from the front to back of house.
Through thoughtful design, the tangible articulation of Revantage's signature logotype, brand and culture into their new space has resulted in a flexible and people-centric environment that reinforces their corporate culture, supports their employees' well-being and promotes productivity.
Design: ID21
Photography: Kelvin Cuff
Via