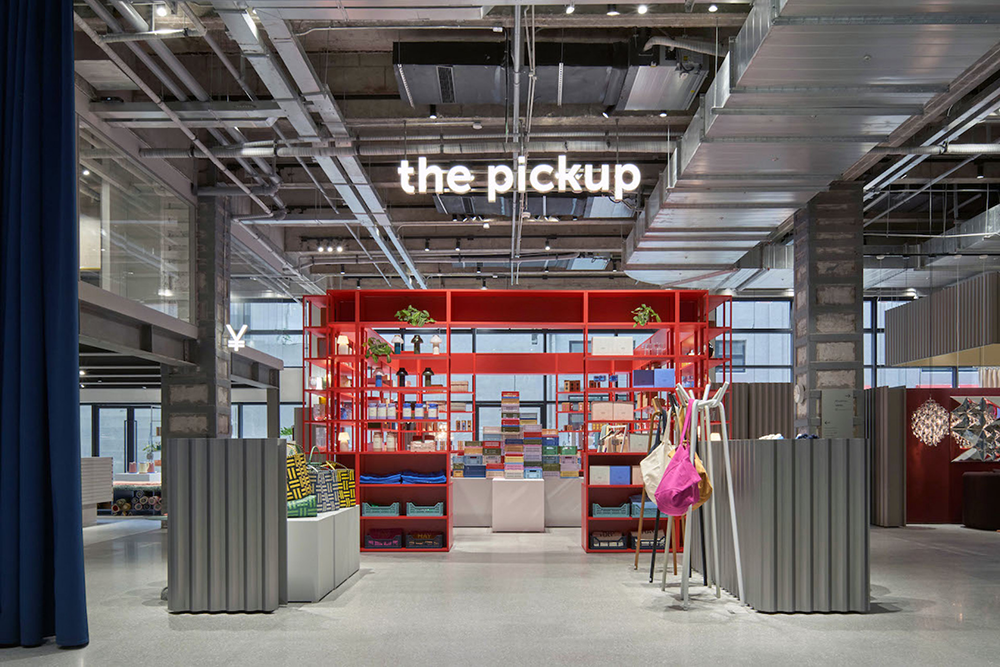 Design furniture and lighting retailer Studio 9's Shanghai showroom combines hospitality and retail to create a community-oriented space and experience.
Key features
AIM Architecture designed the community-oriented showroom for furniture retailer Studio 9's Shanghai presence. The 3,000-sq-m store occupies the ground floor of a former textile factory in the city's Jing'An district, and incorporates the original raw concrete structure in its design. New, flexible architectural elements were added to refine the open space and create more intimate areas to display lighting and furniture. Corrugated stainless steel partitions organize the sub-spaces and L-shaped moveable walls, which meet the changing needs of the space. White ceramic islands demarcate the reception, café and checkout desk. The space is organized in a U-shape, with product display areas surrounding a public café and creative workspace that blurs the line between the retail area and public spaces. The six-m-high glass façade floods the space with daylight, along with an outdoor terrace which directly extends from the café. Tiered theatre seating is enclosed in blue curtains that creates a secondary events space.
FRAME's take
'[Hospitality spaces] can draw a wider pool of potential customers through the door and keep them engaged for longer, and can turn browsing into purchases via exposure to products,' we wrote about the increasing integration of hospitality in retail spaces. 'Beyond-retail' activations have become more common with brands like Lynk & Co., Lexus, Nio, and Jins, turning to mixed-typology spaces to bolster their bricks-and-mortar showrooms. The idea behind this is to foster community and remove some of the traditional pressure associated with shopping for larger ticket items like cars and furniture. This approach to retail represents a shift from hard selling in favour of more subtle methods. It also provides customers with a place to rest while shopping creating an overall more relaxing experience and an additional revenue stream for the retailer.
Designed by AIM Architecture
Photography by Dirk Weiblen / Yuuuunstudio
Via