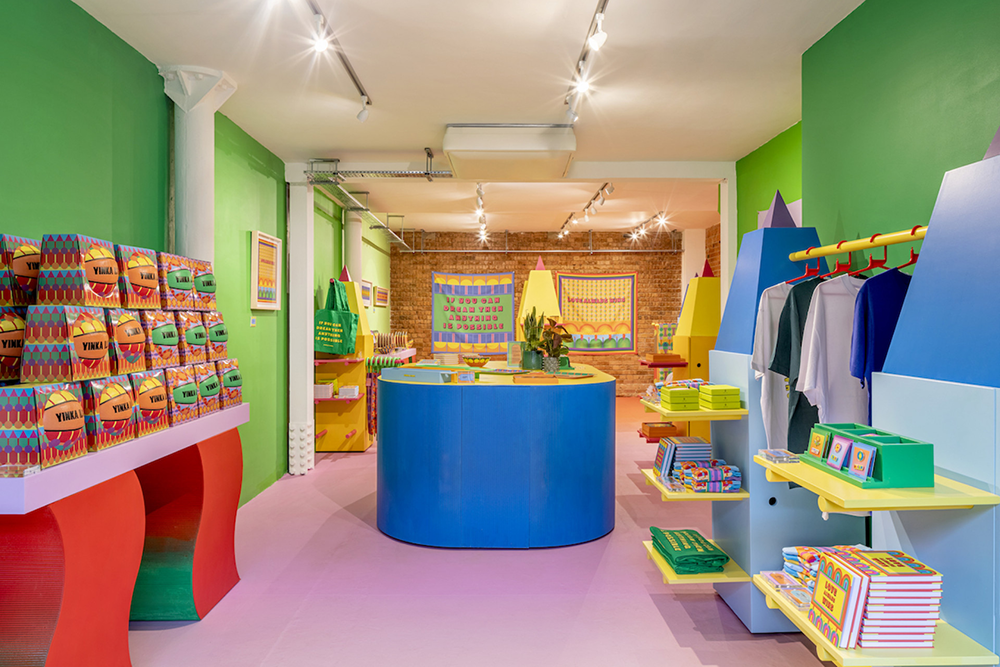 The London pop-up shop integrates community cultivation in its design, activations, and purpose, demonstrating how local retail outposts can benefit from this approach.
Key features
Artist-designer Yinka Ilori opened a pop-up store in Shoreditch, East London, to display his homeware and lifestyle products. The self-designed space draws on West African architecture, specifically the houses and mosques characteristic of Burkina Faso, Nigeria, of which he has heritage. The store is coloured in bright tones of blue, green, pink, and violet which form product displays and demarcate different retail areas. Patterned textile curtains form a fitting room area. The store will host different events and activations like a basketball signing and game tournament over the course of just over a month to serve as a community space. 
'The high street plays such an important role in our communities but in recent years we have experienced a steep decline with many independent businesses struggling,' says Ilori. 'With this pop-up I wanted to bring retail back start a conversation about the future of our stores, how we curate these spaces and what experiences we can create to forge deeper, more meaningful connections.' Furthering the space's connection with its surrounding community, five per cent of the pop-up's profits will be donated to Shelter, a charity which supports those struggling with housing or homelessness.
FRAME's take
Ilori has developed a distinctly colourful and playful approach to spatial design that has a universal appeal to it – which is also certainly present in the designer's London pop-up. In an attempt to revitalize in-person retail, brands have turned to community cultivation as a way of creating a deeper connection with the consumer. Ilori stays true to this approach with the Shoreditch store because of its community appeal through and through. Its location makes it accessible to locals and redirects patrons from commercial shopping areas to the small business district. In-store activations are an invitation to engage community members as is the store's charitable purpose. Community cultivation is woven into the store's conception, design, and activations, creating a pleasant and locally oriented shopping experience.
Designed Yinka Ilori
Photography by Ed Reeve
Via