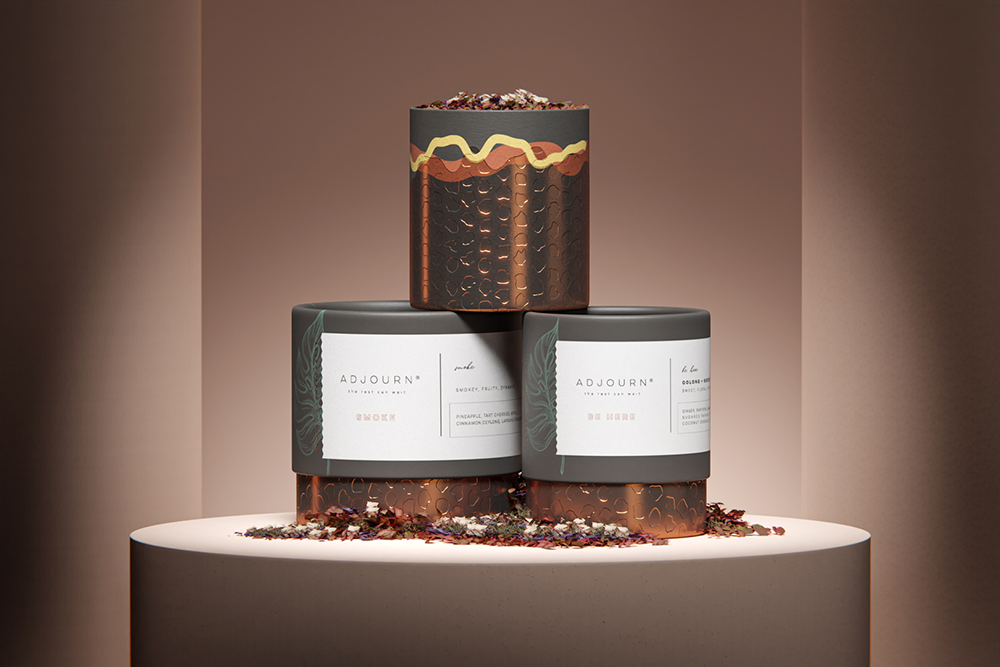 Specializing in organic, hand-crafted, full-leaf tea blends, Adjourn™ is busting the myth of hustle culture, encouraging—no, begging—us to press pause and enjoy a quiet moment. "This practice is such a simple investment of time that benefits the individual and has the potential to boost wellness in the whole community," proposes LaTonia.
In the early days, LaTonia used aluminum tins and glass jars to package her loose leaf teas. "Supplier errors, dented tins, and lack of availability led me to seek other options," she explained. Unfortunately finding companies willing to work with small businesses wasn't easy. Minimum orders and high shipping costs, especially during the pandemic, made it hard to share her products the way she imagined. "As a blossoming business owner, I'm still developing business acumen," says LaTonia.
When LaTonia found us, we got excited about her vision and knew we could deliver on the quality and simplicity she was looking for. In addition to a collaborative creative process and sustainable packaging, LaTonia wanted luxury packaging that would last but wouldn't break the bank to ship out. Paper tubes were clearly the answer. Her brand palate was a fun challenge for our designer, Ricardo, who used copper pots, deep earth tones, and soothing mountainscapes for inspiration.
"Ricardo and the whole Paper Tube Co. team went above and beyond capturing my brand vision," LaTonia explained. "The love that went into creating the design was the best. Peggy and Ricardo made the whole process fun and seamless. I am sooooo impressed. I just love the entire package."
With beautiful, sustainable new packaging that expresses the nurturing vibe Adjourn™ encourages us all to embody, we are certain LaTonia and her team are well-positioned to continue to grow their dedicated customer base, one cup of calm at a time.
"The team was nothing short of amazing. Peggy handled my concerns with so much compassion and Ricardo's attention to detail and uncanny ability to ask just the right question was amazing. He conceptualized my ideas and created an amazing package design. I can't wait to work with Paper Tube Co. again in the future!"–LaTonia Cokely, Founder, Adjourn Teahouse
Designed by Ricardo Gomez
Via