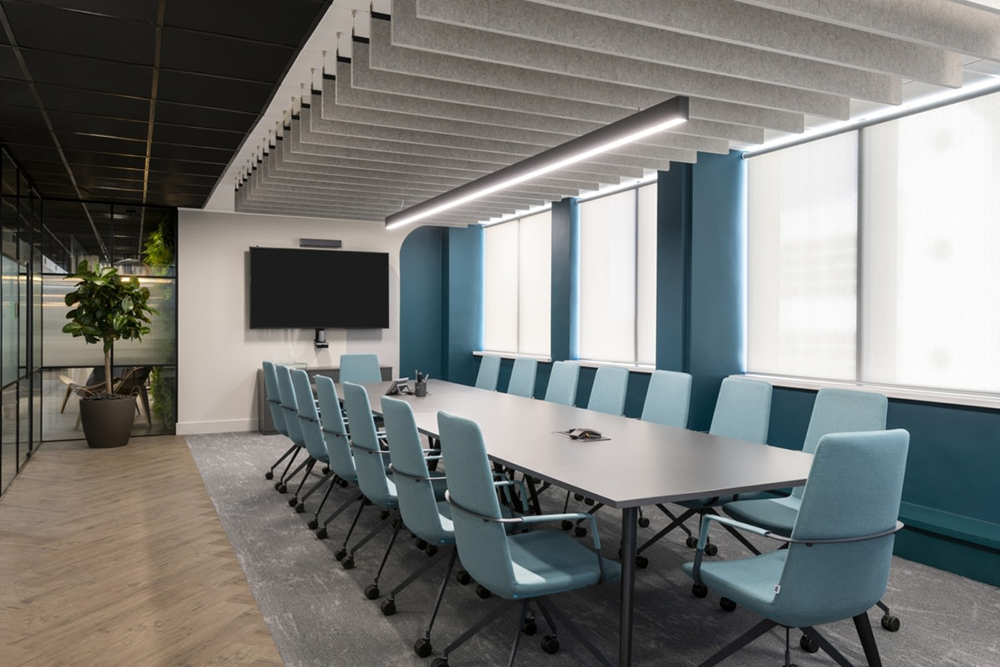 Axis House's innovative office design for UK construction-lead specialists, Glenigan, is a perfect example of how to downsize your commercial workspace effectively in Bournemouth, England. It's not everyday that a company seeking to grow its business to attract and retain top talent makes the decision to downsize its offices by half. But, that's exactly what UK-based construction-lead firm Glenigan sought to achieve when it brought in Axis House to design, build, and fit-out its new 4000 sq ft headquarters in Bournemouth, England.
Established in 1973, Glenigan assists clients at all stages of the construction cycle with sales leads, market analysis, and company intelligence. With its employees now working from home part of the time, the company decided to swap its 8000 sq ft headquarters for a space half the size – bringing in Axis House to project manage and oversee its delivery.
Effective space planning was one of the most important aspects of the Glenigan brief that Axis House delivered, not least because the new office needed to fulfil multiple purposes in a much smaller area. Another top priority was creating the infrastructure needed to support a smooth transition to hybrid working. In addition, Glenigan also had ambitions to transform the appeal of its office space, all of which had to be factored into the layout.
The aesthetic appearance of the space was crucial to get right. Glenigan expressed a desire for the office to have an urban and contemporary feel that would appeal equally to existing staff while assisting the business to attract new talent.
To address the different needs the office needed to fulfil, Axis House divided the open-plan space into designated zones, incorporating new hot-desking hubs alongside traditional style workspaces. These were complemented with a new kitchen and a break-out area, which – to save on space – doubles-up as an informal meeting area. The company additionally introduced bleacher-style seating to accommodate larger, business-wide, presentations, together with soft seating, collaboration spaces, smaller meeting rooms, and private working pods.
To capture the urban look and feel Glenigan wanted, Axis House brought in a variety of natural and industrial materials – sustainably sourced wherever possible – all of which create a clear cohesion with the construction sector the client operates within.
Feature walls and planting were incorporated, the combination of which elevated the mix of natural and urban materials while creating strong visual focal points throughout the office. A pool table in the breakout area was brought in to enhance the feeling of the office as a social space where colleagues are free to relax at lunch and after work. These respective spaces now frequently feature in Glenigan's video podcasts, which it records on-site once a month.
In terms of technical specifications and Audio Visual requirements, Axis House worked collaboratively with Glenigan's in-house IT team to ensure that each zone in the office was outfitted with the necessary equipment and power to support the business's hybrid working model. This includes a slick room booking system, that makes it simple for colleagues to reserve the different spaces, dependant on their needs.
The result is an inspiring and multi-sensory workspace that supports a seamless collaboration between home- and office-based employees, helping to set Glenigan up for success as they adopt hybrid working as their new operational normal.
Design: Axis House
Photography: Marek Sikora
Via