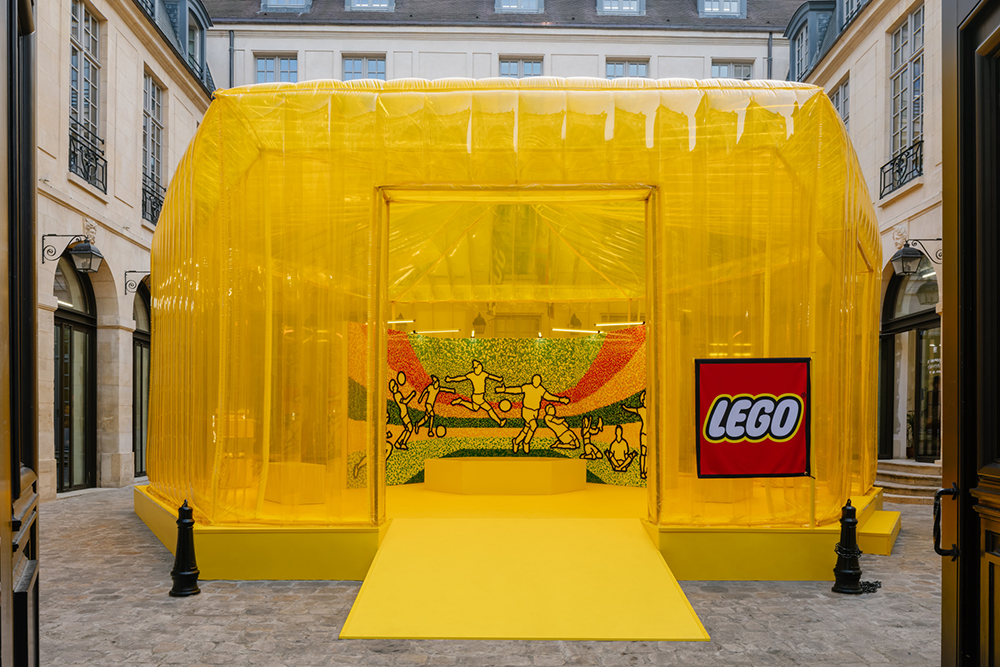 An AMO-designed, football-themed pop-up for Lego in Paris gave visitors an immersive play experience across three vibrant zones.
Key features
AMO teamed up with London concept studio Consul to conceive the Lego pop-up, which was installed in the fourth arrondissement between 29-30 October. Myriad activities were held in the space – a courtyard, lab and arena hosted hands-on brick-building activities and a LEGO Ideas Table Football tournament, as well as talks with creatives and footballers to mark the launch of the table. 
Framed by transparent, canary-yellow walls, the courtyard had a central mural constructed with Lego bricks and product displays. AMO transformed the interior spaces into a colourful lab – where the talks took place – and an arena, where one could join a tournament or watch as a bystander. Bold stands and flooring and bright LED lighting represented Lego's lively visual language, coexisting in textured contrast with the site's bare bones. 
FRAME's take
Lego is one of the most iconic toy brands in the world, but it doesn't rest its laurels on that fame. Instead, its continued to build its brand universe by partnering with equally bold creatives and designers who can add value to its image as a play-maker – recent activations have included partnerships with the likes of Yinka Ilori and Camille Walala. The appeal of these spaces – including the AMO pop-up – has been that they bring fun, colour and play to children and adults in the physical world while involving icons from other industries and fields, just as Lego's products do. It's undoubtedly one of the reasons why the brand continues to prosper and build recognition, even as toys get ditched for digital games.
But Lego's spatial activations aren't just exemplar for fellow retailers. AMO's pop-up design for the brand stood as a platform, one that equalized visitors young, old, famous and not, through the power of play. The space, as well as its programming, can definitely be a guidepost for communities looking to similarly engage their members in a positive way.