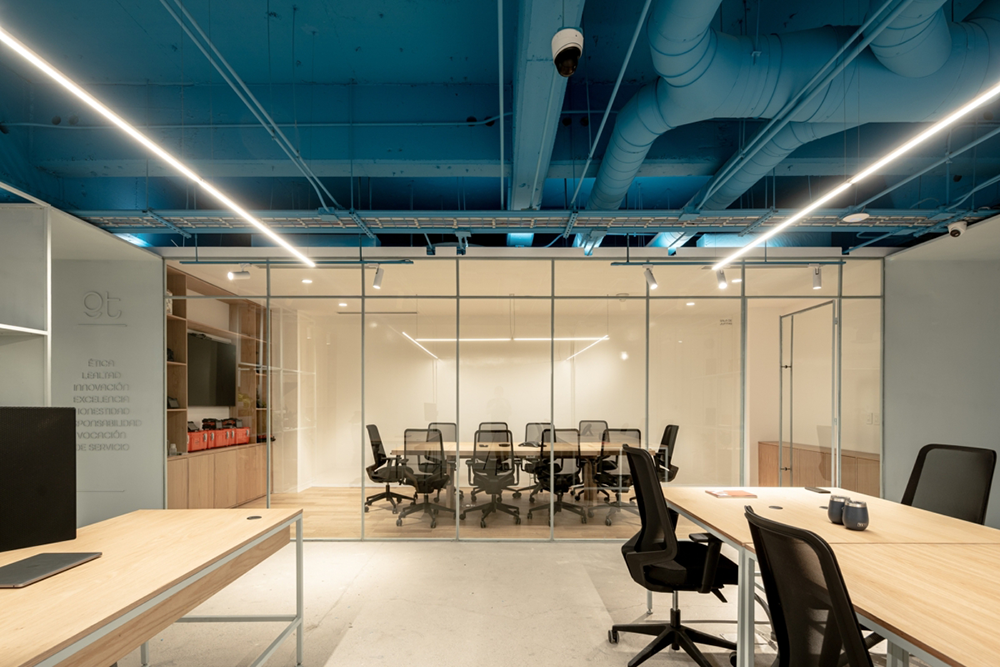 Dosa Studio designed an office to reflect the innovative spirit of technology company, Grupo Terton, located in Mexico City, Mexico. The Project is located in an office building, south of Mexico City. The job was to design new central offices for "Grupo Terton", a leading company in the technology and telecommunication field, which reflects their innovative spirit and highlights the importance and the utility of their products.
An ordering and contrast of areas were carried out by taking the existing structural frames as guidelines and the necessity of natural light. The result created a linear disposition, where all the different uses take their place depending on the privacy level required for every space.
Two types of needs are defined in the project: Public and Private. Each one of them with its parameters: Finishes, Heights and Furniture.
The Public Area consists of connected open spaces. The exposed installations become a part of the design and optimum function of the workplace. In addition, the spaces are marked with the company's trademark blue, which works as a framed protagonist creating a habitable showroom for the user and visitors.
The conceptual idea of the project was to conceive an office without visual obstacles and create open spaces. This is why the private areas are contained in crystal clear rooms, which act as physical barriers to separate the different uses, while at the same time allowing light to reach different layers.
Design: Dosa Studio
Design Team: Raúl Medina, Sergio Sousa, Sandra Ocampo
Contractor: Antenna
Photography: Oscar Hernández
Via