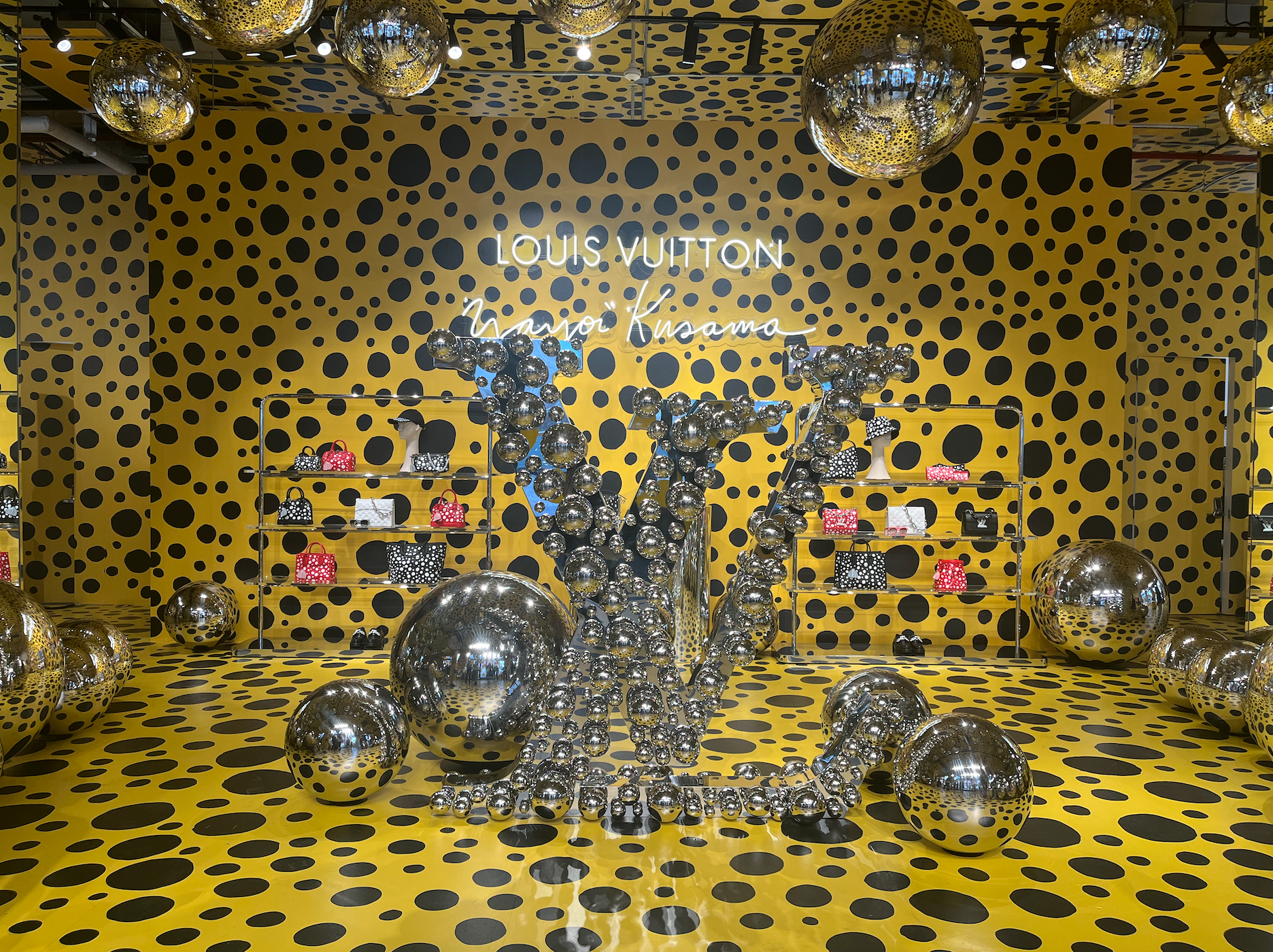 Louis Vuitton presented its second collaboration with Yayoi Kusama on Thursday at a pop-up store in New York's Meatpacking District, just across the street from the Whitney Museum.
Inside, uniformed men held silver platters of champagne amidst a sea of black dots covering yellow walls, mirrors, and reflective spheres. A giant, standing LV sign, encrusted with more chromatic spheres, stood glinting and flashing.
These simple forms speak immediately to Kusama's body of work. The mirrors are a nod to her viral "Infinity Rooms," the first of which was debuted in 1965. Later ones have shown at museums and galleries across the globe, and are perhaps responsible for spawning the recent rush of "immersive experience" exhibitions. The chromatic balls, meanwhile, reference Narcissus Garden, which premiered at the 1966 Venice Biennale. As in the "Infinity Rooms" or Narcissus Garden, the dots crowd spaces, covering canvases, rooms, people, and fabric in red, yellow, black, and white.
The smudged and warped spheres presented at the Louis Vuitton store, however, bely a seeming lack of care to the collaboration. Almost every item, stamped in Kusama's irregular dot and LV's perfect monogram, appears made of polyester, like a polyester-and-wool zip-up fleece for men that sheds on itself and the surrounding items.
There is a lot of clothing that doesn't bear Kusama's mark at all, such as a black pleather-like overcoat styled over a ribbed white tee, fitted at the collar with a chain that is shrink-wrapped in white plastic. There's a black polyester suit that—gasp!—includes some polka-dot lining. These items seem to be intentionally uninspired, meant to invite the coward to permit themselves a Kusama charm necklace or a statement bag. And the bags are nice. They come in a variety of forms, from mini-luggage style, black and studded with spheres, to a classically modular one that is the only reference to Louis Vuitton's vastly more successful collaboration with Kusama in 2012.
Louis Vuitton's 2012 collaboration was perfectly timed, due in part to some manipulations. Led by Marc Jacobs at the time, LV was the sponsor of a Kusama retrospective at the Whitney. But beyond that obvious tie-in, there was sensitivity to the zeitgeist. It was the heyday of the quirky girl, who wore flats and blunt bangs. The style of that millennial moment could best be described as lovingly and knowingly cheap, complete with a reverent love of Minnie Mouse, bows rendered in hard plastic, deep blacks and lipstick reds, and, yes, lots of dots. In short, a perfect time to launch a collaboration with the art world's version of the quirky girl, Kusama.
Yet, despite that era's love of cheapness, the 2012 collaboration was anything but. It exalted in the cookie-cutter, shiny surfaces beloved of that moment—the pin-up heels, jelly flats, and Peter Pan collars—and manifested them at their highest, most perfect iteration.
This collaboration is missing the 2012 one's commitment to the bit. This is partly due to the sheer size of the collection, which numbers over 400 items, both for men and women. The womenswear, which takes up the left side of the store, is comprised of pajama suits, bags, T-shirts, a silver leather jacket, necklaces, scarves, and even a surfboard. They hang off racks or the same, repeated female mannequin, a white woman with a slightly wavy bob. The menswear, meanwhile, is a mash-up of street wear, backpacks, sneakers, a nice pair of grey-tone, dotted cargo pants, and a puffer jacket, as well as thick varsity jackets, suits, and collared shirts. For whatever reason, unlike the female ones, the male mannequins are unique and represent Black and Asian individuals; all are beautifully rendered.
Kusama, at 93 years old, has been playing with fashion for a long time. In 1968, she debuted the Kusama Fashion Company and began working with major department stores like Bloomingdale's. She then started Nude Fashion Company, whose products were considerably more avant-garde, like the "Party Dress," which could fit up to 25 people inside of it. In Japan, her stamp is found on both high- and low-end items.
There is a reflexive flinch that often comes with seeing the fashion world absorb art and artists, as if fashion is by definition commercial and art is radical and pure. But, as with anything, there are simply better or worse ways of doing things. This time, it happens to be worse.