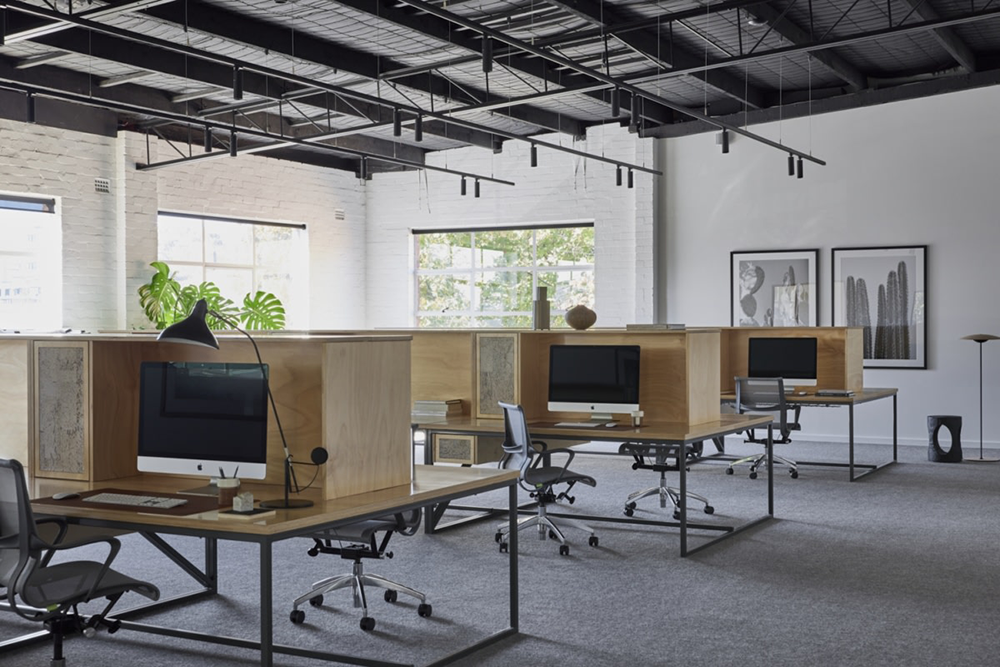 Daniel Boddam Studio used a mid-century modern design and a minimal elegance for the Wyer & Co offices in Sydney, Australia. Harnessing a shared affinity for nature, Daniel Boddam Studio has transformed landscape designer Wyer & Co's Botany-based warehouse into a workplace sanctuary awash with verdant landscaping, natural light, sustainable materials and locally crafted furniture.
After working with Wyer & Co creatively for many years, Daniel Boddam Studio was invited to collaborate on a values-based 'creative hub' for the practice; a place that would feel natural, calm and uplifting. The sustainable and naturalistic ethos of Wyer & Co's Founder and Creative Director, Anthony Wyer, resonated with the design team, who developed a design language centred around authenticity and sustainable design.
Embedded in Botany's industrial context, Wyer & Co's dark steel and red brick warehouse is softened by verdant, layered landscaping. Along the boundary, existing linear garden beds are retained with mature Trachycarpus fortunei craned in to ground and reduce the scale of the building, while at the entrance, a large masonry planter holds a striking Phoenix reclinata palm supported by Agave potatorum (Butterfly Agave), Lomandra longifolia 'Tanika' and a carpet of vibrant Zoysia tenuifolia, framing the building's oversized steel doors.
Sandblasted limestone pavers flow effortlessly from exterior to interior, where a conservatory-style gallery welcomes visitors and presents a canvas for client presentations, industry events, talks and workshops. A series of bespoke, honey-coloured plywood cabinets articulate project material displays, fostering a constant connection to Wyer & Co's design process, while a large Phoenic roebelenii mirrors the tone of the exterior planting, its fronds reaching towards the skylight above.
Throughout Wyer & Co, Daniel Boddam Studio has curated locally designed and crafted furniture, with many pieces derived from studio's own collections. The dramatic Geo Long Table anchors the meeting room, complemented by a custom design cabinet and the delicate Lina Chair which sits lightly around its perimeter. The low-lying Booham Chair mediates contemporary and primitive influences in the nearby lounge areas, while a combination of the Wave Sofa and Armchair in textural boucle upholsteries speak of the coast's gentle rolling and foaming waves.
Wyer & Co's community-minded ethos extends to the basement level staff areas, designed to inspire healthy work practices. Custom plywood staff lockers provide personalised storage, enabling workspaces to be kept clean, while kitchen and gathering spaces encourages staff to step away from their desks, gather and socialise. In line with Wyer & Co's focus on sustainability and staff wellbeing, solar panels offset power usage, while the provision of electric bikes enable local staff to sustainably commute to work.
Design: Daniel Boddam Studio
Photography: Pablo Veiga
Via