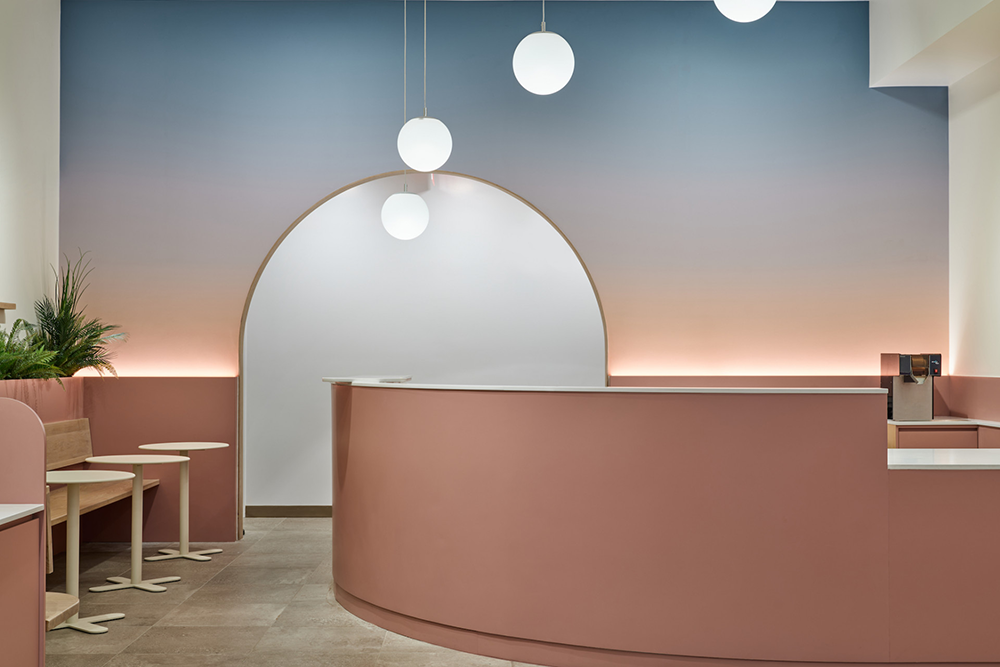 The location is dessert and beverage chain Lazy Sundaes' fourth location in the city, designed to balance functionality and fun.
Key features
Lazy Sundaes serves bingsoo sundaes, bubble tea and matcha drinks in a range of flavours inspired by the childhood delicacies experienced by its founders in Taiwan and Korea. For its new flagship interior, Alda Ly Architecture combined the nostalgic roots of the growing chain with the energy of the neighbourhood in which it is situated. Studio director Alda Ly says: 'The design concept explores the idea of a "Lazy Sunset" – that feeling you get when you find the perfect sunny spot on a Brooklyn fire escape, or golden hour in a park with friends on a sleepy summer afternoon.' This sunset is evoked on the back wall of the café, the tone of the calico wallpaper transitioning from lavender to warm pink, tying together the blush-coloured laminate of the surfaces and the rosy hues used throughout the space. 
Customers are led down off a patio-style entryway into a dining area that sits one foot below sidewalk level, the use of wood-look vinyl flooring, outdoor-style wicker hammock chairs and faux tropical plants all intended to give the feeling of an extension of the outside. Alda Ly looked to recreate the feeling of a lazy river for customers moving around the café, the soft curve of the service bar encouraging visitors to follow along as their dessert or drink is made, and custom-made rounded white oak benches are set up to allow larger groups to spill over into the surrounding tables and stools. 
FRAME's take
Alda Ly Architecture works with start-ups and established organizations to provide them with custom design solutions, developing a reputation for making these both playful and practical. At the Lazy Sundaes flagship location, the playful can be found in abundance, right down to the pendant light fixtures that resemble boba clusters. These charming aesthetic elements come without detriment to the practical. Ly's design of the curved service bar, for example, results from her observation of the movements of staff at another branch, and their reliance on a non-linear assembly line similar to that of a cocktail bar. 
Designed by Alda Ly Architecture
Photography by Reid Rolls
Via