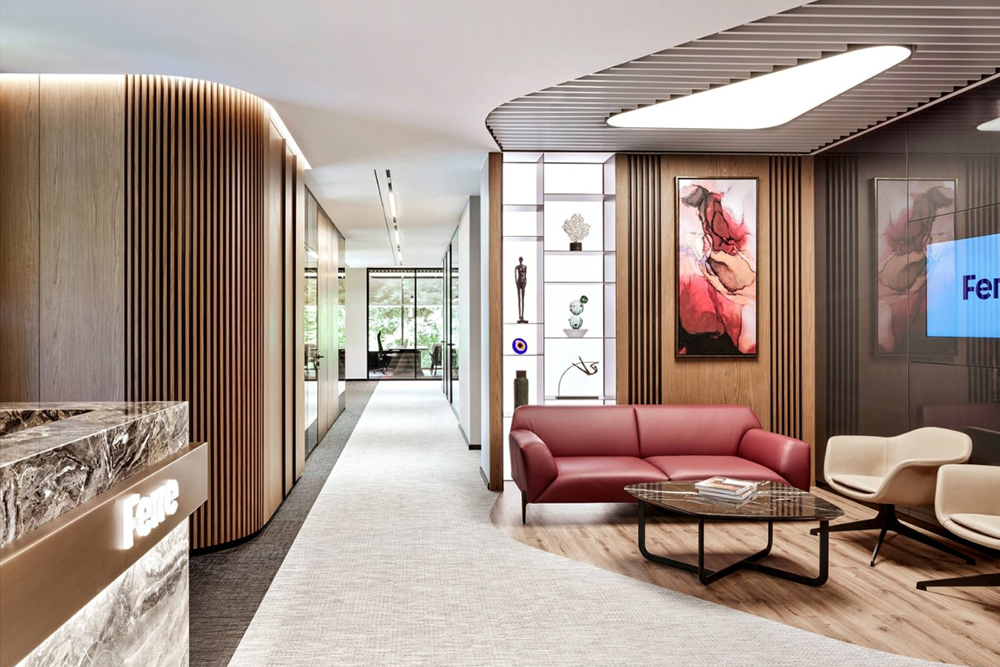 The design of Ferre's Istanbul offices incorporates green spaces, practical workspace options, and the kitchen appliance manufacturer's high-end products. Yapi Studyo Architects was tasked with creating a stylish and functional space for the Ferre offices in Istanbul, Turkey.
Ferre is one of the largest kitchen appliance manufacturing companies in Turkey, which has a production area of ​​approximately 400,000 square meters. This office, which is planned to be used as the main office, consists of 2 stories and also showroom and workshop areas.
According to the requirements of the company, the most functional plan study was carried out. The goal was to combine this functionality with ergonomic designs and create places that employees would find enjoyable.
As a concept, green space was provided for employees who have separated away from nature in daily life. In addition to the artificial and natural plants we use in the space, we also increased the natural temperature with wood and ceiling modules. So, we have achieved a modern design by enlivening this warmth with marble, glass, and dynamic materials.
In order to save time and space, focus rooms in different colors were designed for fast and practical meetings.
The show kitchen was designed in order to offer Ferre's clients the opportunity to experience selected high-end products. The clients, while trying Ferre products, they also find the opportunity to spend time in a pleasant environment.
Showrooms were designed, to make it possible to see and explore all the solo and built-in products produced.
Also, executive rooms, meeting rooms, social areas, and open offices were designed and built.
Design: Yapi Studyo Architects
Design Team: Doruk Erbay, Damla Erbay, Ceren Usta, Efe Karacadağ, Doğan İmamoğlu
Photography: İbrahim Ozbunar
Via