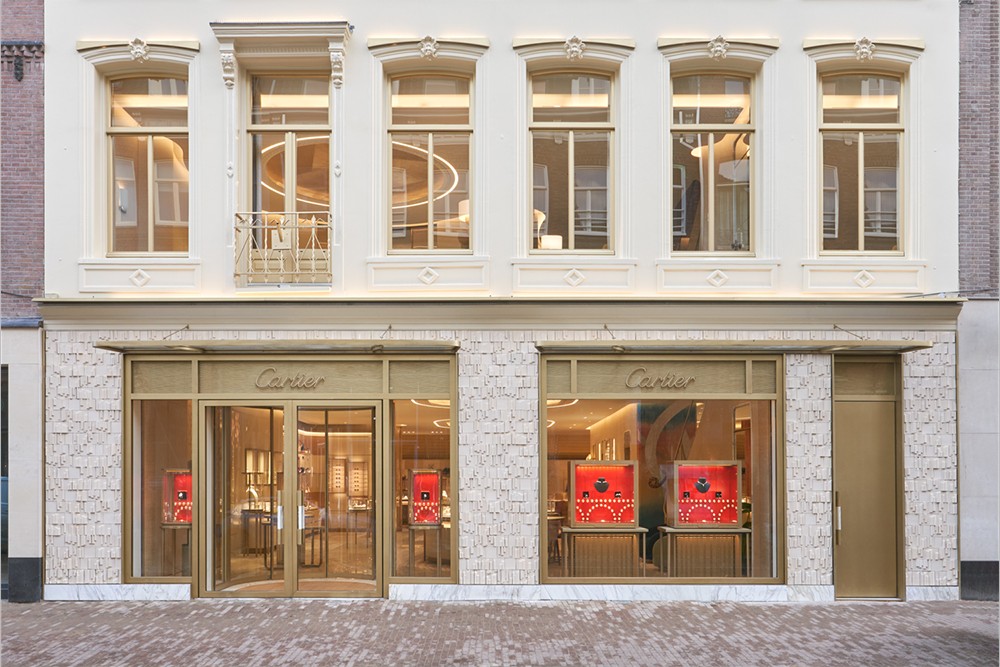 The house of Cartier arguably is the very first luxury brand to have settled in Amsterdam back in the mid-1970s, well before the current influx of high-profile names which line P.C. Hooftstraat, the city's undisputed luxury mile. Although initially settled in the heart of the Canal District, Cartier joined the ranks on the aforementioned shopping artery in 1994, and now, it has opened a new chapter by relocating to even more lavish new premises across the street. A true design statement, and one that rivals many a flagship store at this location, the store is in fact the result of a merger of two adjacent townhouses built in 1875 by Dutch architect C.A. van Schaik. The retail space has been designed by Paris-based architecture and design practice Studio Parisien, and in compliance with the luxury brand's forward ecological stance, it has a LEED certification.
Interestingly, the aesthetic embeds collaborations with different designers that signal a distinct local flavour, most notably the lower façade's ceramic tiles by Dutch artist Eva Crebolder which take cues from the higgledy-piggledy shapes of many of the Dutch capital's canal houses. Mind you, all ceramic elements were produced by Koninklijke Tichelaar, the planet's oldest operating tile factory. The lofty ground floor is an oasis of elegance, framed by inlaid marble flooring and cream plaster walls. Organic-shaped columns by Atelier Tollis, which have been coloured as a reinterpretation of the bricks that define Amsterdam, punctuate the space. Seemingly synchronised with two sizeable display islands and corresponding ceiling coves, they usher in shoppers into the store.
In the back, a colourful wall panelling pattern refers to De Stijl, influenced by artist Piet Mondriaan and his use of primary colours. Sustainable French oak parquet flooring subtly shows a pattern based on those in artist Johannes Vermeer's artwork. A staircase adorned by a colourful mural with panther motif – mind you, this feline has been an iconic Cartier symbol since it was first introduced in 1914 on a wristwatch – leads to a homey salon upstairs. Here, a masterpiece by Atelier Midavaine made of lacquer and mother of pearl punctuates the rise from the canals to the polder cloudy landscapes while more ceiling coves add up to the evocative atmosphere. On the upper level a courtyard garden can be found, designed by the architects of MAAK space. The new Cartier flagship store carries the brand's full range of jewellery pieces, watches, bags, accessories, eyewear and fragrances.
Designed by Studio Parisien
Images © Cartier
Photography: Alexandre Tabaste
Via