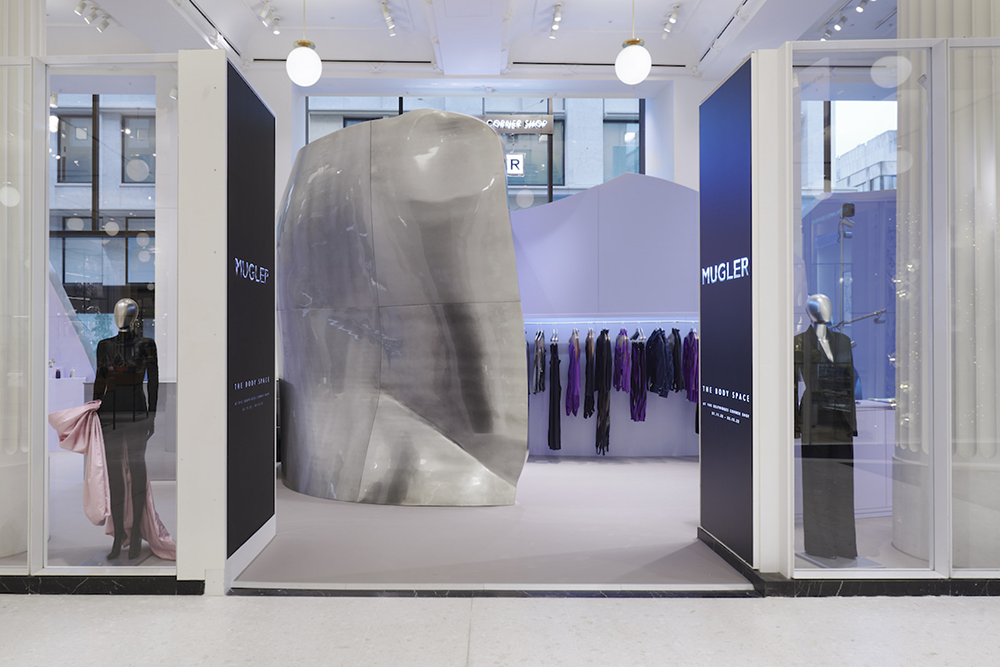 A Random Studio-designed pop-up space for the Mugler perfume Angel at Selfridges London engages visitors' senses with a truly immersive brand experience.
Key features
To mark the 30th anniversary of the Mugler scent Angel, Random Studio created an immersive brand installation and pop-up shop at Selfridges' Corner Shop in London. Drawing on the perfume's inspiration from the female form, the space's architecture is composed of a deconstructed sculpture of a woman reclined. The fragmented anatomical forms are rendered in a reflective material that gives a distorted image, breaking up the space into respective retail areas. The sculptures' interiors are coated in the same blue shade as the perfume bottle. In the leg of the structure, Mugler's fragrance collection is displayed and organized around a drop-like fountain where visitors can refill their perfume bottles. Meanwhile, the torso houses a fitting room where the clothes on display can be tried on. The Synesthesia Chamber, which uses light, colour, sound and fragrance, contributes to the immersive nature of the brand experience. A siren-like voice entices visitors into the space with a scent sculpture in the centre incorporating an oscillating light.
FRAME's take
Temporary in nature, the goal of a pop-up shop is to create enough buzz while still prioritizing the brand or product to motivate visitors come to the space during its short lifespan. One of such ways to do this is to create an immersive space, which engages the senses to create a memorable experience. With perfume products, it's logical to turn to the obvious sense: smell. But since Angel itself already engages that sense, Random Studio focused on activating the others to make the space truly immersive. This helps create a three-dimensional space that not only conveys the iconographic story of the product but invites visitors into the brand universe in an emotional way.
Designed by Random Studio
Photography by Jasper Fry
Via