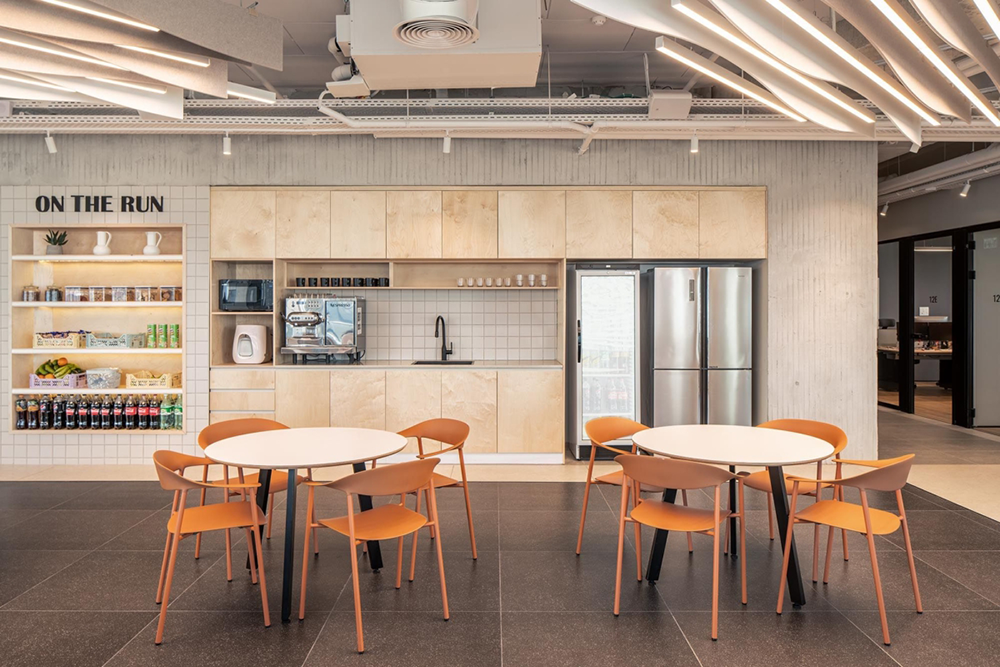 The open feel space of Armis' Ramat Gan office gives employees of the cybersecurity platform room to grow, innovate, and collaborate in a healthy and positive atmosphere. switchup created a light and charming space to welcome employees of Armis to their office in Ramat Gan, Israel.
Armis is one of the most innovative cybersecurity platforms on the market, keeping businesses and employees safe from malware attacks. When the majority of businesses rely on online activity, Armis works hard to innovate and update their platform to meet the new needs of online protection.
Design and atmosphere have an immense impact on our mental health, drastically changing how we think and work. The employees at Armis need to work hard to keep their users safe. Thus, we wanted to create an open-feeling space that encourages innovation and cooperation.
For the office space, we selected this gorgeous 4,600sqm floor at the Acro Tower in Tel-Aviv. The fixed casement windows and open plan allow natural sunlight to fill up most of the space, while also giving a stunning view of the city. To establish the atmosphere, our team started by adding matte ceramic and wood flooring to give the rooms an organic feel. Extra lighting units were added to illuminate the slightly darker areas and complement the sunlight. Then our team included decorative plants to give the space the alfresco atmosphere we were aiming for.
The tables were set up in a similar style as park benches, and outdoor patio-swing chairs were set up to look outside. The layout is still neat and organized, while giving the positive mental benefits that come from working in an outdoor area. The open space encourages employees to get up, move around, and be social with their coworkers. This is the type of environment that fosters open communication and helps the work to feel more cooperative.
Should employees prefer a more secluded or quiet space to work, the office includes multiple focus rooms. The rooms are furnished with comfortable couches, and have a glass wall to let in as much light as possible. This is a quiet space that offers a different working experience, while still feeling connected and open to the rest of the space.
The employees at Armis are working hard to keep their clients safe online. Their best engineers need the perfect space to fuel team synergy and promote a positive, healthy work experience.
Design: switchup
Photography: Yoav Peled | Peled Studios
Via