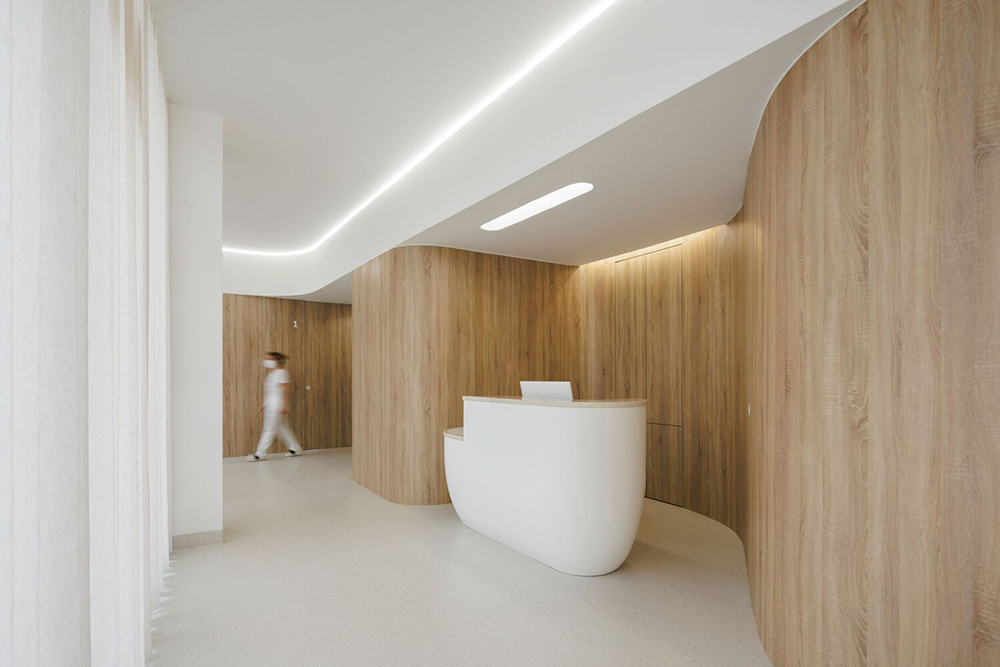 The new MOOD – Medicina Dentária clinic, in the city of Maia has an area of approximately 80 sqm on the ground floor with extra space in the basement connected by stairs.
Two interconnecting dental offices and respective support spaces (water closet and locker room), reception and waiting spaces are intended.
The clinic's configuration favors the distribution of the dental offices next to the window to the south, where the dimensions are more generous and well suited. Based on this pre-definition, the public spaces (reception, waiting and circulation) are arranged towards the large front window to the east, leaving the technical and support spaces relegated to the interior areas.
The functional organization is defined by a wall/membrane that divides the public and private zoning. This wall configures the various public spaces, resulting in a decorative panel that frames the entire front window.
The sculptural wall has a wooden cladding with the doors hidden in the design of the wall itself. The proposed materiality conveys a comfortable and well-being environment. The finishes are tactile and natural.
The "sand-colored" vinyl flooring guarantees visual comfort, while complying with the resistance and hygiene requirements. The private spaces follow the same aesthetic intent, with washable decorative wall coverings.
The front window provided with a diaphanous curtain conveys the desired comfort In all spaces, a recessed soft ambient light is privileged.
Architects: Tsou Arquitectos
Photographs: Ivo Tavares Studio
Via