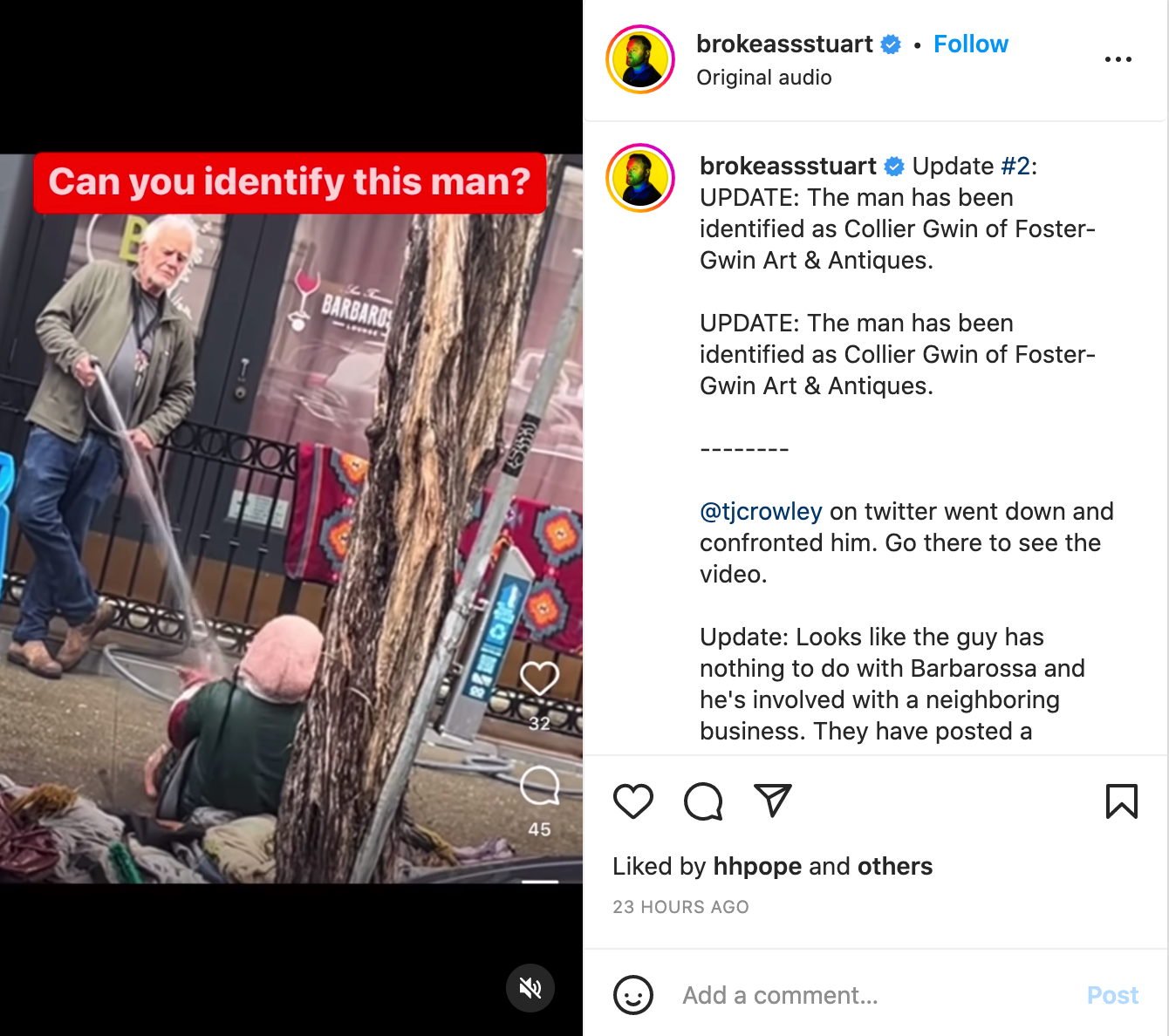 Yesterday, San Francisco-based writer Stuart Schuffman posted a video on Instagram of an older man as he casually sprayed a homeless woman with water from a hose as she sat against a tree on the sidewalk. The man has since been identified as Collier Gwin, a San Franciscan dealer of fine art and antiquities at his gallery Foster-Gwin Art & Antiquities.
The video quickly went viral, and Gwin has been confronted on the street and has had his door broken in the last 24 hours. In the meantime, Gwin has been making statements to local news outlets explaining his actions.
In an interview with KTVU, Gwin apologized, saying he "snapped" after ten days of trying to get the woman removed from the area around his storefront, where she often sought shelter. He described her behavior as "psychotic" and that she seemed to be hallucinating. In the same news segment, San Francisco supervisor Aaron Peskin described Gwin's actions as assault.
"The notion of anybody treating another human being like that on our streets is gut-wrenching and horrible," said Peskin.
Gwin opened Foster-Gwin Art & Antiquities in 1983. According to an interview that he gave the Nob Hill Gazette, his clients include David Rockefeller, Arnold Schwarzenegger, and sports figures like baseball player Ichiro Suzuki and basketball coach Gregg Popovich, among other notables.
Attempts to reach Gwin at his gallery were unsuccessful, and the website for the gallery is currently down.
San Francisco has long been dealing with an extreme housing shortage as the price of shelter has skyrocketed in the wake of Silicon Valley's enormous successes. San Francisco has one of the highest rates of unsheltered homeless people in the country, second only to Los Angeles, according to data gathered by SF Chronicle.