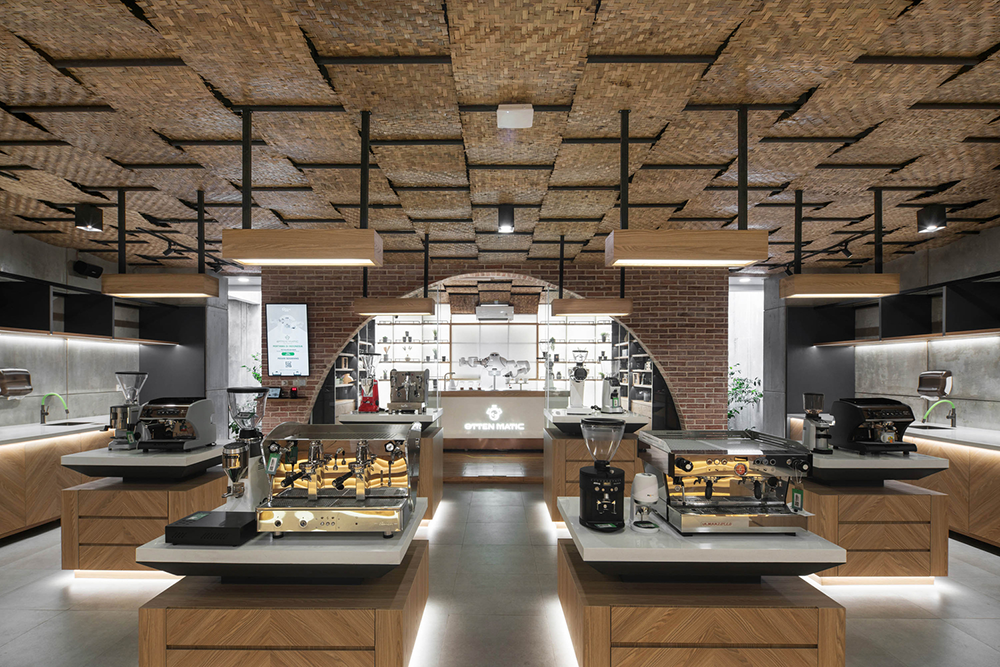 Located at Kaliki, Bandung, Otten Coffee Experience is a renovation project of two storeys building with a total of 600 sqm building area where the old structure is preserved. Spaces are redefined and optimized to give a better experience for guests.
The exterior wall facade is layered with a combination of timber slats and brick walls. Timber slats buffer the sun, create shades and texture on the plain concrete wall yet also keep the rain splash coming inside the building. Covered by a new cantilevered canopy, three arches framing the interior – draw people's attention to inside the space – while a small slit at the side allows direct access to storage. The tilted wall of the lobby makes a spacious double-volume entry in an unexpected triangle shape and guides curiosity further to the main area.
Entering the space, guests are passing a 36 sqm digital theme lobby with visibility and access to the tavern which is located side-by-side. The 24 sqm tavern takes a smaller portion of the space Natural light penetrates through the transparent roofing. Behind it is a 24 sqm linear display hall which previously functioned as a foyer. This area separates the entry space and the main area. On one side, a U shape existing stair is modified to the L shape considering efficiency, it leads to an office and coffee shop at the mezzanine area above the lobby. On the other side, access to direct storage is subtly hidden.
Moving to the main area, a traditional gedek bamboo or bamboo weave on the ceiling blends into the space, making a strong and bold identity. The 144 sqm open plan space exhibit products which are displayed along the wall side in sequences. Two customized tables are set up for tasting. Furniture is made concealed using drywall considering construction time and budget efficiency. A 36 sqm bar in the center is elevated with timber parquet flooring creating hierarchy and dynamic inside the space. Playing with two tones, white and natural timber finish, the bar subtly stands out among the grey tone on the wall & floor. Timber finish in a herringbone pattern on display cabinets balance and keep the material continuity within the space. Behind the bar is a display of coffee machines which are lined up on pedestals. Further at the end, a 15 sqm dedicated robotic room serving performative visual – enclosed by the glass as its own space, framed with an arch brick wall, and elevated also with timber parquet flooring.
Architects: Realrich Architecture Workshop
Lead Architect: Realrich Sjarief
Main Design Team: Andriyansyah Muhammad Ramadhan, Alifian Kharisma, Pandu Nazarrusadi, Avinsa Haykal, Timbul Arianto Simanjorang, Thomas Andrean S.
Photographs: Ernest Theofilus
Via