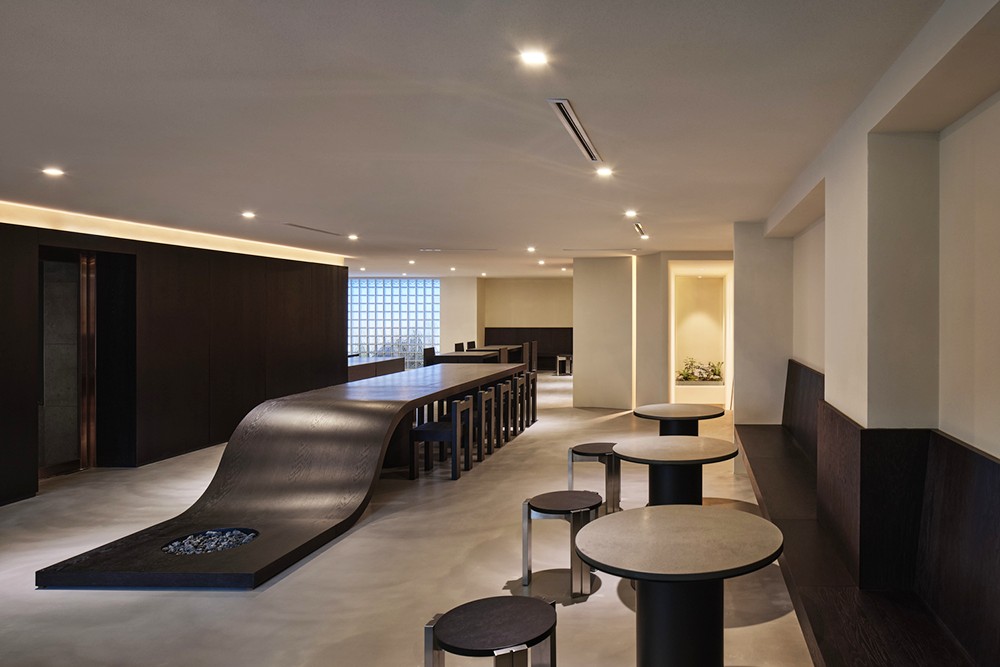 In Seoul, the good life just got a little better. The city already has its fair share of cool places where to sit back and indulge in excellent coffee and ditto pastries, but the recent opening of Ouvrir indicates there's still room for more. The bakery and café occupies two-storey unit on the premises of the head office of Sungshin Culture, a specialised label printing company based in the Euljiro neighbourhood of town. Formerly a gritty industrial area of town, dotted with small and medium-sized printing and paper businesses, gentrification set in a few years ago and this establishment bears witness to the ongoing transformation. The interior design, created by Seoul-based architecture practice anotherD studio, loosely draws inspiration from local history, when back in the day, the Euljiro area was still rural, marked by an ochre hill which turned all bronze at sunrise.
Indeed, this romanticised picture has been translated into a contemporary setting which evokes the serenity and harmony of the aforementioned scene. Offering a recluse from the city's hustle and bustle, Ouvrir's ground floor is discreetly shielded from the street except for a strip of glass above the polished concrete floor which sees a mini Zen garden with the prerequisite rocks and mosses. Right above sit shelving units displaying the wide range of freshly baked breads and pastries. Directly opposite, the coffee counter is situated next to a concealed kitchen unit and distributes various concoctions that guests can take to one of the seating arrangements around the corner. The furnishings are understated and angular, comprising of a bench lining the wall and paired with side tables, in addition to more benches near the window, while matching sets of tables and chairs take centre stage.
The second floor is where Ouvrir's actual bakery is situated, but here it's also discreetly concealed, putting the focus entirely on the understated seating areas. Largely furnished with similar pieces, it's an elongated communal table with a downwards sliding top at one end which is a focal point of the design. The table's ground floor section sees a circular void filled with pebbles which is used to burn incense. Additional seating areas comprise of benches with side tables, albeit mostly with circular tops, and one large square equivalent in the corner. The menu at Ouvrir is quite elaborate, offering a wide range of delicacies to the more refined palate, ranging from freshly baked breads and pastries, to an abundance of coffee concoctions and almost as many different teas and other beverages.
Designed by anotherD studio
Images © anotherD
Via