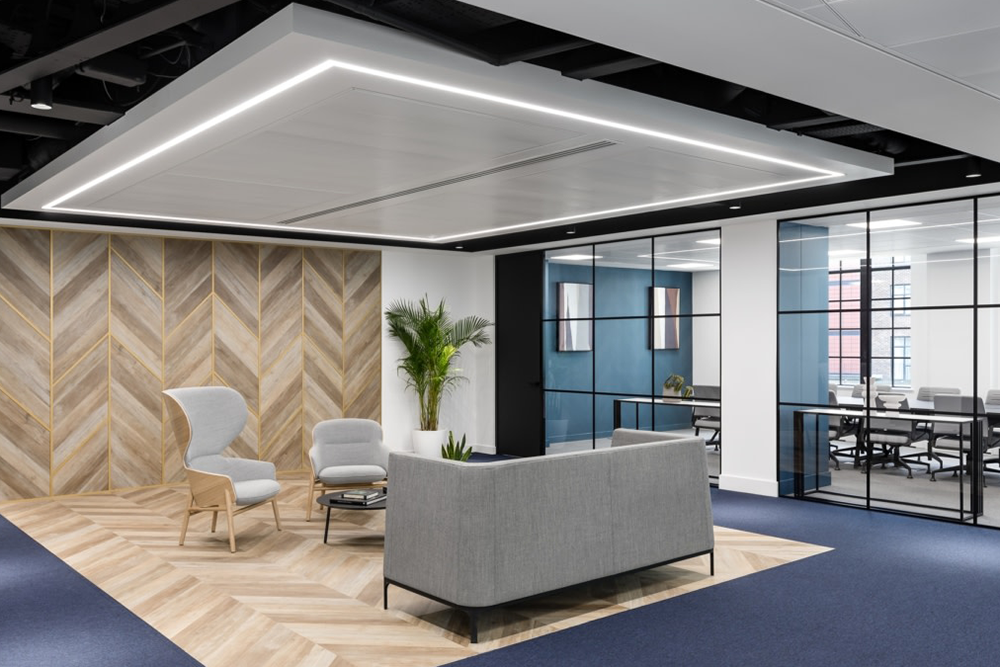 Oktra was tasked with giving the Walsingham House Spec Suite dynamic workspace throughout in London, England. Hartnell Taylor Cook appointed Oktra to refurbish 3,400 sq ft of 'plug and play' office space on the third floor of Walsingham House during a void period; a turnkey solution designed to quickly attract new tenants and increase occupancy rates post-pandemic. With the flex space offerings in the City becoming increasingly competitive, HTC saw the need to differentiate their asset and boost the marketability of the building through a Built to Lease offering.
Oktra delivered a Cat A+ fit out that has been designed in line with the base build information from the asset owner and complements the ground floor reception. The third floor is now ready for immediate occupation, and is also acting as a show suite to help incoming tenants visualise the potential of the building. In addition to the design and fit out, Oktra procured the furniture, fixtures and equipment, and dressed the space with ancillary items to help HTC market the space to their target tenants.
Occupants are greeted by a welcoming waiting area with timber effect flooring which runs seamlessly up the wall to create a warm backdrop and a reengineered floating raft ceiling that designates this central meeting area. The soft seating, tactile materials and addition of biophilia contributes to a calming and uplifting space that encourages in-person communication in a relaxed atmosphere.
Businesses operating a hybrid working model will have their needs met with flexible solutions. The open plan accommodates up to 30 employees and encourages hot desking, while also providing touchdown workspaces and an acoustically-treated phone booth. By splitting the mechanical services in the board room, tenants are given the option to install a wall to split the space in two if they require more intimate meeting rooms.
Oktra procured materials with our client's commercial objectives in mind to ensure the project met HTC's budget requirements while also creating a high-quality, functional workspace that could meet modern tenant expectations. With a fully fitted office space, incoming tenants can save on initial costs, which means HTC can reduce landlord contributions and charge a higher rent over the course of the tenancy.
Oktra's design is considerate of the building's BREEAM Excellent rating and uses hard-wearing, sustainable materials alongside a timeless colour palette that ensures this workspace is built to last. The updated workspace reflects modern design trends and a sleek, professional interior will appeal to variety of businesses looking to lease a centrally located, flexible office space in the City of London.
Design: Oktra
Photography: Oliver Pohlmann
Via