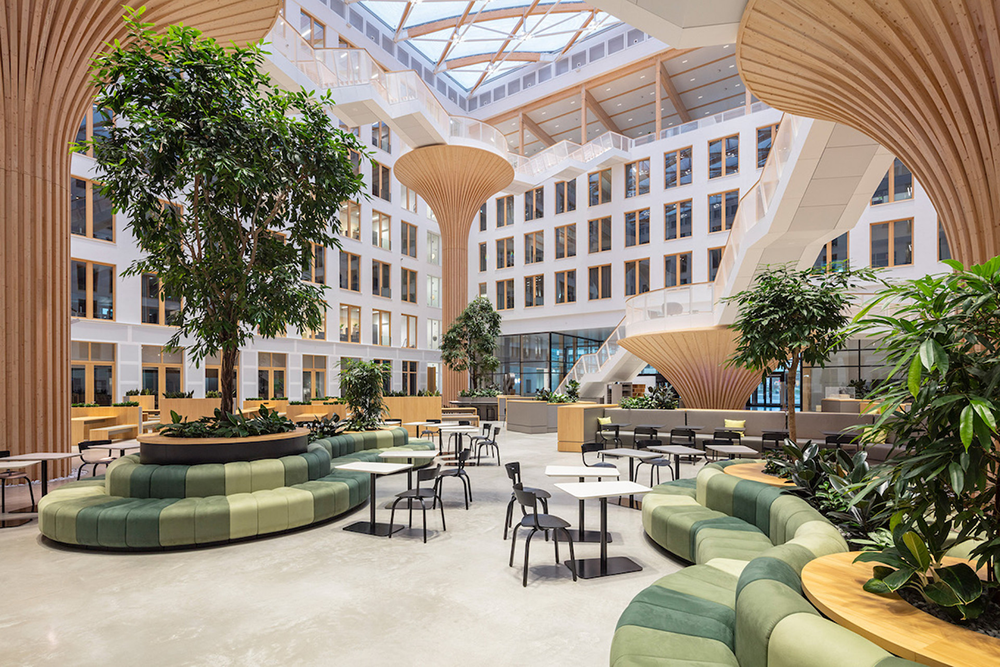 Tchoban Voss Architekten adopted a circular design approach for the EDGE Suedkreuz Berlin, Germany's largest hybrid-timber construction, designed with a deconstruction plan to extend the lifecycle of the materials used.
Key features
Tchoban Voss Architekten designed the twin buildings of EDGE Suedkreuz Berlin, which serves as the headquarters for energy supplier Vattenvall. The seven-storey office complex is the largest hybrid-timber building in Germany and is made of prefabricated modules. By using this construction method, the architect devised an extensive deconstruction plan, allowing for the circular reuse of elements and materials in the future. The lightweight structure uses less raw materials compared to normal construction methods. The use of wood as a structural and decorative element allows the space to retain heat longer than other construction materials like concrete, also helping to reduce energy needed for heating. 
Winder Architekten Berlin completed the interior design of the two buildings, totalling 32,000 sq-m. The Solitaire building is a two-storey entrance lobby with hospitality, commercial and retail space, and provides access to the Carrè building where office spaces are located. A voluminous 26-m-high central atrium provides natural light. Despite the extensive use of glazing, the atrium's roof is covered by a transparent ETFE foil to ensures its energy efficiency. Four pillars resembling mushrooms are connected by staircases, which lead to the adjacent office floor spaces, provide recreation space above and below. The fifth floor has a lounge with panoramic windows and external terrace space. Beams, windows and doors are also made of wood.
FRAME's take
It's no secret that the design and construction industry contribute immensely to the production of waste and emission of carbon. As economic development and new construction go hand-in-hand, how can the creation of corresponding commercial spaces minimize their environmental impact now and in the future? 'Allowing modules and components to be reused rather than wasted, reversibility goes beyond the idea of recycling individual materials, which require energy and resources to turn back into a useful state', we wrote, in regards to the emergence of circular offices.
EDGE Suedkreuz Berlin's creation of a deconstruction plan, use of prefabricated modules and material passport which is 100 per cent consistent with the MADASTER circularity materials database allows the raw materials to outlast the building, if and when it is no longer needed. Truly sustainable architecture not only pays mind to the sourcing of materials but looks to how their lifecycles can be extended.
Architect: Tchoban Voss Architekten
Interior Design: De Winder Architekten
Photography: HG ESCH
Via